This archived news story is available only for your personal, non-commercial use. Information in the story may be outdated or superseded by additional information. Reading or replaying the story in its archived form does not constitute a republication of the story.
MURRAY — Latter-day Saint women and others around the globe have listened to and read her words for decades, but never once has Sheri Dew publicly mentioned she had breast cancer.
Her confident and collected demeanor always kept her on task and the inspirational author and CEO of Deseret Book never let the disease get her down.
On Friday, however, 57-year-old Dew regaled an audience of breast cancer survivors and their families at Intermountain's Janice Beesley Hartvigsen Breast Care Center, with her story of early detection, denial, a single surgical treatment and the ongoing maintenance with which she is more than willing to comply.
"I almost feel guilty being classified as a breast cancer survivor," said Dew, who received a diagnosis in 2006, after a series of tests that stemmed from a painful experience with kidney stones.
Doctors were concerned with three tiny spots, almost invisible to the naked eye, but because they caught the malignant cells soon enough, and removed them, Dew was spared from chemotherapy and radiation treatments that both her mother and sister had to go through.
"What I ended up experiencing was a couple of weeks of sheer terror," she said. "I had to go through a surgery, but the recuperation was not that difficult and the prescription was a very simple one, all because they caught it early."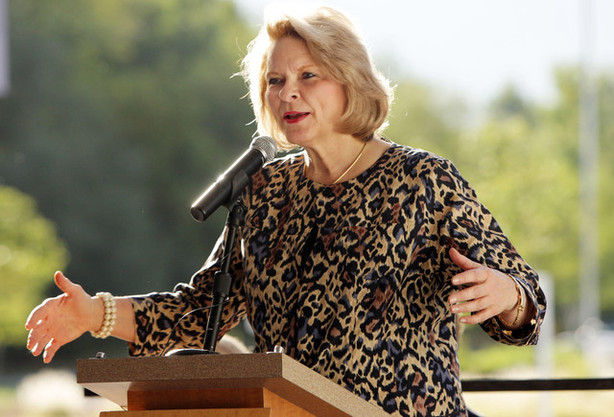 Dew, a former counselor in The Church of Jesus Christ of Latter-day Saints' Relief Society General Presidency, was ordered to undergo biannual mammograms for five years and is back to having yearly tests, as she's in remission.
She's truly a living example that early detection is beneficial, said Intermountain Medical Center's Dr. Brett Parkinson, who treated Dew and hosted Friday's event.
"Not only can a mammogram save a life, it can actually save a lot of down time, it can save a lot of agony and it can save a lot of stress in a family because it is possible to detect it so early that the cure is pretty easy," Dew said.
Lucky for her, breast cancer was a fleeting thought. But it wasn't in her mother or her sister, who both went through extensive treatment. Dew said she hopes her message empowers women to spread the word and get their own mammograms.
"Ten minutes of uncomfortableness in a mammogram sure beats a year of treatments," she said. "I'm really grateful we have at our access something that makes this really hideously severe disease very manageable."
Utah ranks last in the nation for the number of insured women over 40 who get mammograms annually, Parkinson said. He said the weak numbers are likely due to a benign negligence on the part of busy women in Utah, but also come from misconceptions about the actual procedure.
October is national Breast Cancer Awareness month and events are being held nationwide to remind women of the growing importance of screening and treatment.
"There is science behind annual exams," Parkinson said, adding that new modalities are making early detection and treatment easier and less invasive.
"I'm actually a poster child for early diagnosis," Dew said.
Email:wleonard@ksl.com
×
Photos
Related Stories