Estimated read time: 4-5 minutes
This archived news story is available only for your personal, non-commercial use. Information in the story may be outdated or superseded by additional information. Reading or replaying the story in its archived form does not constitute a republication of the story.
DELTA — Human remains have been found during the search for evidence in the case of missing West Valley City mother Susan Cox Powell.
While West Valley police say they are optimistic this could be the break in the case they have been looking for, they are very cautious to point out there is nothing right now to indicate these remains are connected to Susan Powell's disappearance.
According to investigators working near Topaz Mountain in Juab County — where the remains were found Wednesday afternoon — five cadaver dogs confirmed that they are human.
The discovery comes on the third day of searching the area for clues that might help them discover what happened to Susan Powell. Several officers resumed searching late in the afternoon, even after the remains had been found.
Officials from Juab County indicated that they did not have any reports of missing persons in the area.
Josh Powell, Susan's husband, told KING TV Wednesday afternoon that he had no comment regarding the developments near Topaz Mountain. He also said that the West Valley police had not contacted him.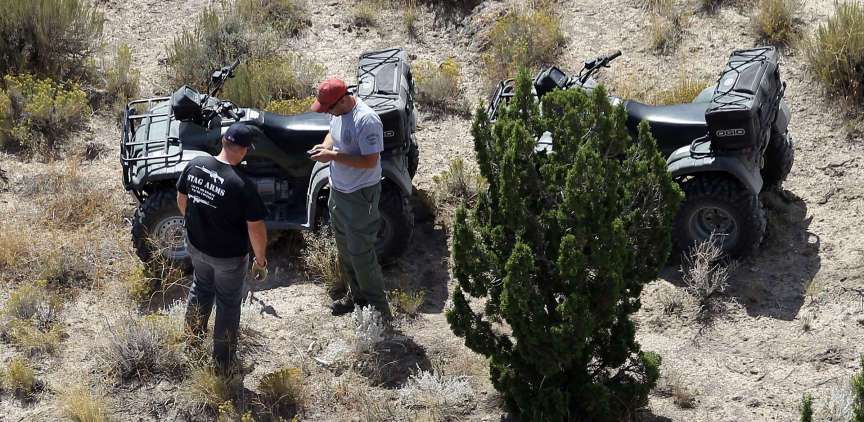 Chuck Cox, Susan's father, said he received a call from police at his home in Puyallup, Wash., about 30 minutes before the first of many media calls.
"They said they had found a place they were interested in," Cox said.
"This is not unexpected in that area that they would find something out there," he said. "I'm sure there are people who have died in the desert that nobody knows about. It could be a pioneer to who knows what."
Cox said all he and his wife can do now is wait for tests to be conducted to determine if the remains are male or female and how long they had been there.
"Now it's a matter of letting real science work," Cox said. "That just takes time."
Details of the discovery
Since Monday, a team of investigators from West Valley, along with deputies from the Juab and Carbon county sheriff's offices, have been conducting an investigation in and around Topaz Mountain west of Nephi and northwest of Delta.
Search teams had returned for lunch early Wednesday afternoon and were waiting for a team with several cadaver dogs to join them, but it never returned. That's when investigators learned that the dogs had located human remains during their search.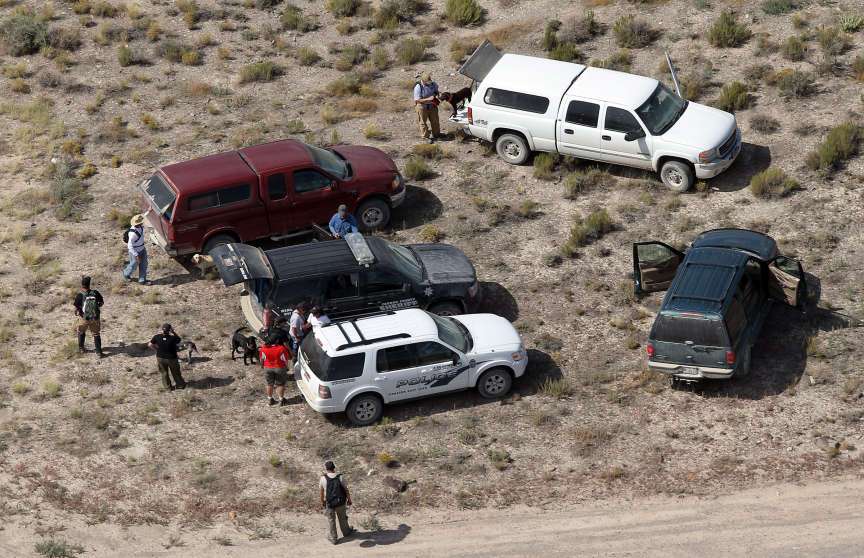 "Several of the dogs indicated positively several times that it is human remains," West Valley Police Lt. Bill Merritt said. "These dogs are able to distinguish the difference between human and animal remains. They don't pay attention to animal remains. They're not interested in them whatsoever."
Merritt said the Juab County Sheriff's Office was called to the area, which is protocol since it has jurisdiction in the area.
"Together we'll decide if this is going to be a crime scene," he said.
There was no immediate details about the condition of the remains or whether any clothing was also located. Investigators were not even saying the exact location of the remains.
"At this point, we don't want to jump to any conclusions and say that we've made any kind of positive identification, because we have not," Merritt said. "What we do know is they are human remains."
The lieutenant said it is likely there are other human remains located within 100 square miles of the area, and he agreed that locating the remains was similar to finding a needle in a haystack.
"The chances are probably not very good (that remains would be found), and that's exactly why we have cadaver dogs out here," Merritt said. "Coming across one is quite the achievement."
Other teams continued to search the area while investigators processed the scene where the remains were located, he said.
"Just in case this turns out to be nothing, we don't want to be sitting around wasting our time for a few hours," Merritt said.
A medical examiner will be brought in Thursday to analyze the remains, as it was not possible to bring them out to the scene any earlier.
Timeline of investigation
This is the third publicly visible search in the case in the past month. On Aug. 25, detectives from the West Valley City Police Department, with assistance from the Pierce County Sheriff's Office in Washington, went to Puyallup to serve a search warrant on the home of Steve and Josh Powell, Susan's father-in-law and husband.
On Aug. 19-20, abandoned mine shafts were searched in the mountains outside of Ely, Nev.
Susan Cox Powell, a 28-year-old mother of two, has been missing since Dec. 6, 2009. The night before she was reported missing, Josh Powell said he took their two young children camping in single-digit temperatures in a remote part of Tooele County in the middle of the night. When he returned a day and a half later, he said his wife was gone.
Josh Powell has been called a person of interest in the case because West Valley police say he has been uncooperative.
Topaz Mountain is less than 30 miles from Simpson Springs, the area Josh Powell told investigators he went camping that night with his sons.
---
Story written with contributions from Pat Reavy and Sam Penrod.
---
×
Photos