This archived news story is available only for your personal, non-commercial use. Information in the story may be outdated or superseded by additional information. Reading or replaying the story in its archived form does not constitute a republication of the story.
OGDEN — Rescuers found just one loose life jacket floating in the water next to where the motor boat was bobbing on the surface at American Falls Reservoir in southeastern Idaho last summer.
Four men had drowned nearby, all trying to save each other, and five children, each under the age of 9, were left sitting in the boat alone.
---
It's been very healing to find such a positive way to honor these men who passed entirely too early.
–JoAnne Duke
---
"You can't be prepared for that," said JoAnne Duke, a 35-year-old Ogden woman whose two brothers, an uncle and a family friend drowned that day, Aug. 8, 2010. "It's hard enough to lose one family member, but to lose three in one sitting and in such a traumatic way, it was really hard."
As the one-year anniversary of that dreadful day nears, the families of those men have found solace in launching the Hale Family Life Jacket Foundation, which builds life jacket loaner stations at popular recreation destinations in northern Utah and southern Idaho, in hopes of "saving other families the kind of heartache that we've been through," Duke said.
"It's been very healing to find such a positive way to honor these men who passed entirely too early," she said. Her brothers, Aaron and Jared Hale, were 30 and 26 years old, respectively, at the time of their deaths. Uncle Darrel Shappart, was 57, and their friend Stephen Verbeck, was 30. None of the men was wearing life jackets when they inexplicably jumped or fell into the water.
The first station, a couple of sturdy posts with a roof overhead, holds 10 life jackets and was erected on Memorial Day at the reservoir where the men died. Nearby, their names are etched into a memorial stone. The jackets are available to anyone who visits the lake without one or doesn't have enough for every one in their party to be safe on the water, Duke said.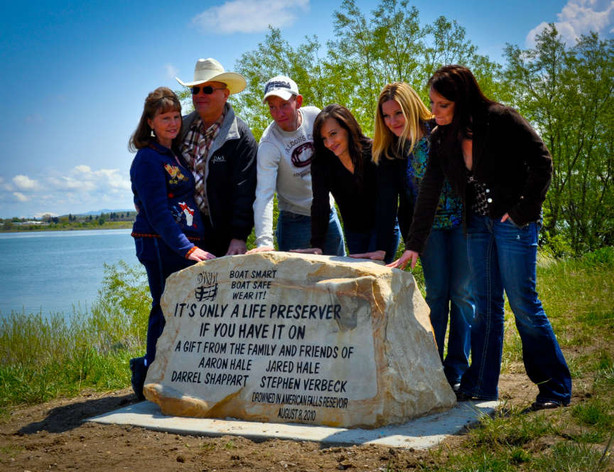 Already, she's heard that the loaner life vests have been worn by at least two different people plucked from the water in near drowning situations.
Each kiosk costs about $250 to $300 and life jackets are provided by manufacturers, stenciled with a logo, for about $10 each. State park officials have partnered with the foundation to maintain and service the stations and those who utilize the loaner jackets are asked to return them for future use.
About 700 people drown each year in boating accidents in the United States, according to the Coast Guard, which estimates that 84 percent of those deaths could have been prevented with proper use of a life preserver. An observational study conducted by the agency reveals that more than 60 percent of boaters use life jackets up to age 18. After that, usage drops to about 12 percent.
The life jacket loaner program is new to Utah, but officials are seeking sponsors to help make the project a reality at all popular boating destinations.
It is the goal of the foundation, Duke said, to see that something like what happened to their family and changed them forever, never happens again.
With a recent $2,500 grant, awarded by Utah insurance company SelectHealth, the Hale family plans to post three additional life jacket loaner stations in Idaho and three in Utah, at Bear Lake, Pineview Reservoir and Willard Bay — places the family enjoys visiting.
"The thing that we have discovered, as well as anyone who has been through anything as traumatic, is that death and tragedy changes you and you don't get to stay the same," Duke said. "You kind of hit a fork in the road and you can either let it destroy you and control your life or you can do something and turn that grief into something positive and that's what we chose to do."
Email: wleonard@ksl.com
×
Photos
Related Links