Estimated read time: 1-2 minutes
This archived news story is available only for your personal, non-commercial use. Information in the story may be outdated or superseded by additional information. Reading or replaying the story in its archived form does not constitute a republication of the story.
Tonya Papanikolas ReportingA fire near Strawberry Reservoir threatened homes earlier this evening, but fire officials say those homeowners can now draw a sigh of relief.
The fire has been burning north of Highway 40, just west of the town of Fruitland in the Ashley National Forest. Most of the fire is burning on state land in grass and sage, but earlier tonight 20 homes were in danger.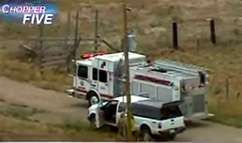 Fire crews on the ground got help from the air. Two air tankers dropped retardant on the flames. A helicopter also dropped buckets of water. Crews worked with a bulldozer and natural barriers to build a fire line around the blaze.
Tracy Dunford, a Forestry, Fire and State Lands officer, explained the plan. "Using roads through some burnout, reinforce it with the retardant. Kind of herd the fire away from this subdivision area."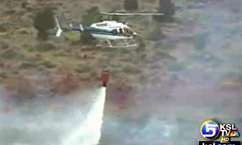 Crews never actually evacuated homeowners. We're told the fire came within 50 feet of a shed and 100 feet of a house. But that fire line made a difference. It forced the flames back another direction. The homes are now safe.
The fire was contained at 9:00 this evening. It's still burning on the inside of that fire line. So far 95 acres have burned.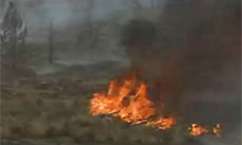 Fire crews left for the evening, but they'll be back at 6:00 in the morning to try to get the flames under control.
They were concerned that more thunderstorms and erratic winds could hamper their efforts, but so far, so good. They had reason for concern. Lightning started that fire and another 10 miles away after a front moved in about 2:00 this afternoon.
×
Most recent Utah stories