Estimated read time: 2-3 minutes
This archived news story is available only for your personal, non-commercial use. Information in the story may be outdated or superseded by additional information. Reading or replaying the story in its archived form does not constitute a republication of the story.
SALT LAKE CITY -- Get ready for the Chicken Week Eggstravaganza! Wasatch Community Gardens is celebrating the growing trend of urban chickens.
Rain or shine the sixth annual Tour de Coops will go on. They may not look very exciting but chickens are all the rage. And not just the barnyard variety - this group lives in the city in a brightly colored coop.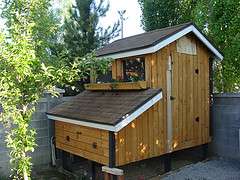 "It's a great way to teach your kids where their food comes from. It's a great way to kind of have a pet that sort of gives back to you," Carly Gillespie, Community Educator for Wasatch Community Gardens said. "Nothing tastes as delicious as backyard fresh eggs. They are not something you want to let roam through your garden, but once you clean out the coop with all of this straw and all of this chicken manure, compost it down., it's really great to add to all of your garden beds."
They used to be fairly well-kept secrets but government leaders have also become friendly to the backyard chicken idea.
One of the reasons why so many people have chickens in their backyards is that in recent years, Salt Lake City and County both passed ordinances that allow coops within 25 feet of a home, instead of 50.
---
Some are very fancy coops that are nicer than some apartments I've lived in.
–Carly Gillespie
---
The documentary "Mad City Chickens" follows the residents of Madison, WI, in 2008 as they worked to change their city ordinance to allow backyard chickens.
There are literally hundreds of coops throughout the Salt Lake Valley. You might think it seems complicated, and that's why there's a Chicken Week. You'll love them, they say.
"I would say it's not any more trouble than my dog or a cat. It depends on what age you get them," Gillespie said. "All of these chickens I got as chicks. And when they are chicks, you have to keep them really warm, starting at 95 degrees and working your way down. So, they have to live inside a building and you have to have a lamp on them and a little brooder box.
"Chicks are harder to take care of but a lot of places locally will sell poulets or teenage chickens or even laying hens. And at that point, all you need are a coop and a run and once you have that, you just need to give them food and water and go and check for eggs every day. I always sort of made fun of people who were attached to their chickens but I definitely have a pretty serious emotional attachment and the white girl, Violet, is definitely my favorite. And they all have hilarious personalities."
Wasatch Community Gardens is sponsoring a week-long series of events, including a screening of the "Mad City Chickens." It starts this Saturday with the self-guided South Valley Tour de Coops.
More information about Saturday's tour is available here.
Written by Carole Mikita with contributions from Mary Richards
×
Photos
Related links
Related stories
Most recent Utah stories