This archived news story is available only for your personal, non-commercial use. Information in the story may be outdated or superseded by additional information. Reading or replaying the story in its archived form does not constitute a republication of the story.
SALT LAKE CITY -- Former Utah entrepreneur Dell Schanze is downplaying his illegal parachuting jump from an Oregon landmark that landed him in jail.
The former "Totally Awesome" computer entrepreneur, who once ran for governor of Utah, parachuted off of the Astoria Column in Astoria, Ore., on Friday and was arrested Monday.
---
I'm no different than a bird. Are they arresting the birds that fly off the tower and land?
–Dell Schanze
---
Schanze spoke to a reporter from TV station KGW following his arrest. He laughed at the idea that skydiving off the top of the landmark is a serious offense.
"You know, I'm no different than a bird. Are they arresting the birds that fly off the tower and land? Is that illegal?" he asked.
In an email to KSL, Schanze claims he was told "it was OK to do it."
Schanze posted video of his jump on YouTube. When Astoria police learned of the stunt, they tracked him down and arrested him for violating city code.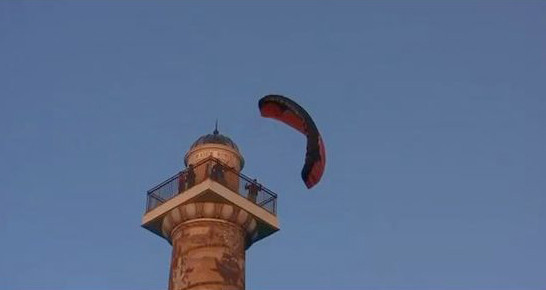 Sgt. Brad Johnston said, "Primarily it involves descending from the column except by stairs, going over the railing, throwing anything that's not approved from the column."
This is not Schanze's first run-in with the law.
KSL asked Schanze in an email what else he was up to. He responded that KSL obviously doesn't care, saying, "If you did you would be doing a story on the phenomenally positive things I do on a regular basis."
Schanze apparently teaches flying lessons along the Oregon coast. When asked by KSL if he lives there, his answer was, "None of your business."
Schanze, who posted bail and was released from jail Monday, is expected to appear in court Wednesday evening on this latest offense. He told KGW he will show up.
The misdemeanor is punishable by up to one year in jail.
E-mail: corton@ksl.com
×
Related Stories