Estimated read time: 2-3 minutes
This archived news story is available only for your personal, non-commercial use. Information in the story may be outdated or superseded by additional information. Reading or replaying the story in its archived form does not constitute a republication of the story.
HILL AIR FORCE BASE — They battle life-threatening medical conditions every day, but on Thursday nine children got a chance to forget about reality and become fighter pilots for a day.
Kit Johnson and some of his friends had a blast trying on Air Force flight suits, helmets, and night vision goggles.
"Those night vision goggles were really cool," Kit said. "You could like see everything in very good detail."
"Cool!" exclaimed Ray Sanchez.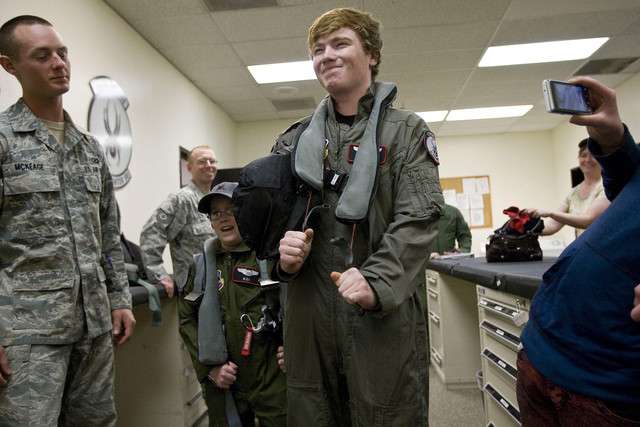 Even cooler was getting to fly a fighter jet simulator.
Members of Hill Air Force Base's 388th Fighter Wing held a Pilot-For-A-Day class Thursday. It was part of the Make-A-Wish Foundation's effort to give sick children once-in-a-lifetime experiences.
"You can tell these kids have had a lot of time in hospitals and have struggled, but they're forgetting about all of that and you just see kids again," Capt. Roberto Flammia said. "You don't see anything else."
Part of the experience was getting their personal flight suit, helmet bags and dog tags.
"We went out of our way to really make them look and feel like us, be part of the team," Flammia said. "We want to roll them into our operation and give them a chance to peek behind the curtain and see an operational fighter squadron in action."
Along with the flight suit, the kids got to pick a call sign just like the real pilots. One boy liked "Kitchy." Another picked "Silky." And then there's "Peepeye."

The Make-A-Wish Foundation grants the wishes of children with life-threatening medical conditions to enrich the human experience with hope, strength and joy. You can help Make-A-Wish and these children by volunteering, donating or adopting a wish. CLICK HERE to find out more.
"When he was a baby, he used to sleep with one eye open," explained Peepeye's mother, Lorraine Traughber. "So that's where that comes from."
Traughber is just happy her son, who is recovering from a tumor in his throat, can experience something like this. She knows some children are just too sick to come to this event.
"It's emotional, but in a good way because he's here and he's doing so well," she said.
All these children are doing well after such long battles. Instead of fighting unpronounceable medical enemies, they're just going after bad guys.
"Peepeye" loves video games, so this was "an extra special video game," his mother said.
For Ray Sanchez, getting into the simulator was a little scary and exciting at the same time, but it was fun.
"You have to get these boats to shoot them down and then they catch on fire and you're good and can go land," Ray said.
Spoken like a child having lots of fun.
The children received a set of pilot wings from Col. Scott Long, the 388th Fighter Wing commander. The day was capped off with an air show demonstration just for them.
The program is paid through the donations of the spouses' club at Hill Air Force Base. The base says this is a program it would like to continue doing every year.
Contributing: Viviane Vo-Duc
Email:acabrero@ksl.com
×
Photos
Related links
Related stories
Most recent Utah stories