This archived news story is available only for your personal, non-commercial use. Information in the story may be outdated or superseded by additional information. Reading or replaying the story in its archived form does not constitute a republication of the story.
WAYNE COUNTY — Two Wyoming teens are safe after being rescued from the Blue John Canyon in Wayne County. However, law enforcement officials say this is the latest example of a growing problem.
A spokesman from the Wayne County Sheriff's Office says more and more people are getting stranded as they try to re-create the trip Aron Ralston took when he got stuck and had to chop his own arm off.
The sheriff's office was notified of the two missing teens by a concerned mother Wednesday night. "They would call (home) every night to let them know how they were doing, and [the teens] had not returned a phone call," said sheriff's office spokesman Tal Ehlers.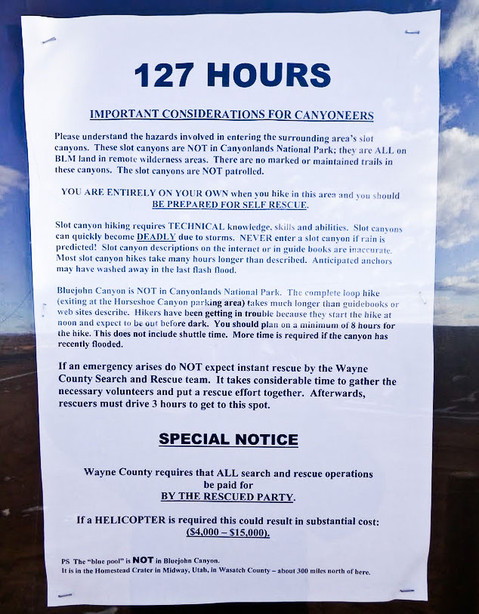 Ehlers said the teens were found early Thursday morning by crews in a Department of Public Safety helicopter. They were ledged in a remote canyon area, where they had rappelled down and got stuck.
Sadly, this kind of thing is on the rise.
"We constantly have individuals that go into that area, either overestimating their own ability or overestimating their own skill level. We have many searches down in that area," Ehlers said.
He says these rescues have been on the rise ever since Aron Ralston extricated himself from a slot canyon by chopping off an arm that was pinned under a boulder. These tourists are trying to re-create the "Aron Ralston experience" without the fuss of near death and arm amputation.
"And they do," Ehlers said. "They find themselves trapped. They find themselves in a position where they cannot extricate themselves, and these rescues are very expensive."
The terrain is extremely rugged and at times very dangerous. The sheriff's office has posted signs along the area with the headline "127 Hours" — the name of the movie about Ralston's tale of survival). The signs explain the hazards that come with the canyons and warn the area is not patrolled, so anyone who goes into the slot canyons needs to be able to rescue themselves.
The Wayne County Sheriff's Office has always had the ability to charge the people being rescued with all of the expenses that add up due to the rescue effort. In the past, they declined passing the bill to the people who are stranded. But they say they're changing that.
"People that go down there unprepared will be charged for their extrication," Ehlers said.
The two Wyoming teens admitted they had read Ralston's book and decided to go to Blue John Canyon because of it.
Ehlers couldn't say exactly how many people have become stranded trying to re-create the Ralston experience because not everyone will admit that that was their reason for going to the slot canyons.
Email: pnelson@ksl.com
×