This archived news story is available only for your personal, non-commercial use. Information in the story may be outdated or superseded by additional information. Reading or replaying the story in its archived form does not constitute a republication of the story.
SALT LAKE CITY — A Utah man was honored by Sen. Orrin Hatch for his commitment to his country at a Memorial Day service Monday, nearly 100 years after he was wounded in World War I.
Sgt. Fernleigh Gardiner was posthumously awarded the Purple Heart for the lung damage he received as a result of mustard gas and the shrapnel wounds he received from German machine guns in battle in 1918.
Related
"He was a farmer who answered the nation's call," Hatch said to the men and women gathered at the Fort Douglas Cemetery. "Despite his gallant service and the injuries he suffered, Sgt. Gardiner was never awarded the Purple Heart."
Gardiner served as a sharp shooter in the 366 infantry. He served in four major battles of World War I before returning to Germany as part of the Army of Occupation.
Gardiner was from Washington County and came back to the area after he completed his service in 1919. His daughter, Lois Batty, sought the recognition for her father, who died in 1965.
"It is wonderful, I'm so pleased," she said. "He would think this was a very high honor."
Hatch said Gardiner "embodied the virtues that have made and continue to make America great."
In his experience in the Senate, Hatch said he has been privy to review classified documents that have made him aware of heroic acts military personnel perform that are largely unknown to the public.
"I can tell you we have heroes right here in our midst," he said.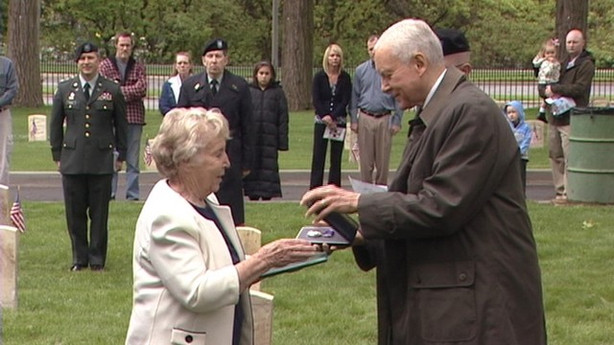 Two military personnel in addition to Gardiner were briefly honored as part of the Memorial Day service. During a memorial roll call, a sergeant called the names of Marine Lance Cpl. Dion Stephenson, who died in Desert Storm in 1991, and Pfc. Aaron Nemelka who was one of the 13 victims of the 2009 mass shooting at Fort Hood.
Their names were each called three times as the sergeant symbolically waited for a reply.
"The idea is you're calling them but they can't answer," said Lt. Col. David Schroeder of the 807th medical command. "The pause is to have us all remember that they gave their lives."
A 21-gun salute rang out following a bagpipe performance of "Amazing Grace."
Hatch told the men and women gathered that fallen soldiers are also real people who have real families, and those families show great courage on the home front, especially when their loved ones are taken.
"Their memory is a sobering reminder that our freedom is not free," Hatch said. "It is our responsibility to emulate their virtue."
------
Story written by Molly Farmer with contributions from Sandra Yi.
×
Photos
Related Stories