Estimated read time: 3-4 minutes
This archived news story is available only for your personal, non-commercial use. Information in the story may be outdated or superseded by additional information. Reading or replaying the story in its archived form does not constitute a republication of the story.
SOUTH JORDAN — For homebuilders, "going green" has not been as important as "making green" during these recent tough economic times. Now one Utah builder is staking its future on the movement to improve energy efficiency and sustainability in the residential home market.
About 3 ½ years ago, Rene Oehlerking — marketing director for Salt Lake City-based Garbett home — pitched the idea of green building to the company's president Bryson Garbett. He said it was an attempt to figure out a way to differentiate the company from other Utah and national builders in the local market as they all struggled to remain competitive in the wake of the housing downturn.
Features of Garbett's new homes
Price tag under $200,000
Home Energy Rating of about 40
Low energy costs - $5 to $6 for power and $7 to $8 for gas monthly
Low-flow plumbing
Hi-tech air exchange and enhanced insulation
Solar and geothermal power
Enhanced protection against earthquakes
Countless hours and $500,000 in research and development later, they came up with what they believe will be a cost-effective, environmentally responsible and (hopefully) profitable homebuilding strategy.
"We started at the end of the (housing) boom, right into the recession," Oehlerking said. "We took a look at the current economic climate and thought we could … take this opportunity to innovate."
He added, "We actually want to change the building industry. We want people to re-think how they buy homes."
He said the main focus of the new strategy was to build affordably priced homes for the young, first-time homebuyer.
"We've taken our same demographic and the same product and turned them into 'super green' homes," he said.
Garbett is the first area developer to make the switch to constructing only sustainably built, high-performance, energy efficient homes in the same price range as traditionally built properties.
The company's newest development near The District shopping area in South Jordan is a collection of townhomes priced below $200,000 that employ the latest solar and geothermal technology that Oehlerking said would yield monthly utility bills of less the $20 even in the most extreme weather conditions.
"The homes we're building now are getting about $5 or $6 a month for power bills, and about a $7 or $8 per month natural gas bills," he said.
Where the standard new home built to code would typically have a 100 score on the National Home Energy Rating System — the U.S. standard for measuring a home's energy efficiency — the new Garbett townhouse has a rating around 40.
Garbett's model home has been (de)constructed to display the various technology advancements such as the solar and geothermal climate control systems and advanced wall framing that makes the home stronger and more structurally sound in the event of seismic activity.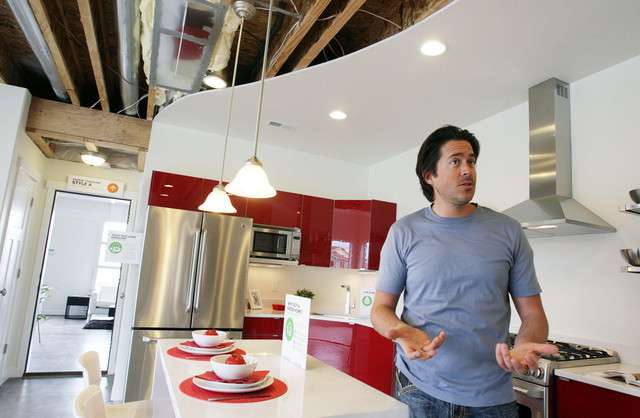 The properties also use high-tech air exchange filters, low-flow faucets, and eliminate air leakage through enhanced insulation.
Oehlerking said employing the practical elements of "building science" provides the capability to better understand building performance and prevent potential inefficiencies or design failures.
Those attributes are what drew the attention of first-time buyer Mike Thatcher. The 26-year old software developer and his wife recently graduated from Utah State University and were looking for a townhouse and came across the South Jordan Garbett property relatively early in their search.
"We were definitely sold on the idea (of a green home)," Thatcher said. But he still felt obligated to explore other options, and eventually decided to purchase a geothermal-powered unit.
"(Walking through the de-constructed model) was really cool," he said. "Being able to see the technology gave (us) the reassurance that it was built well and built to be energy efficient."
Thatcher said that while he was not "hard core about being green," he said doing his part "to help save our planet" was an added benefit of purchasing the property as well as the low energy costs.
Oehlerking said all of the technology improvements are standard in every home and the company recycles all construction wood waste a local facilities. He said while implementing the new technology and sustainability measures on a large scale is exciting, the bottom line is that in order for the plan to be successful, it will have to be profitable long-term.
"We've spent the last couple of years testing," he said. "We're confident now that we have a great solution."
Time will tell if the "green" gamble pays off.
Email:jlee@ksl.com
×
Photos
Related links
Related stories
Most recent Utah stories