Estimated read time: 2-3 minutes
This archived news story is available only for your personal, non-commercial use. Information in the story may be outdated or superseded by additional information. Reading or replaying the story in its archived form does not constitute a republication of the story.
Ed Yeates ReportingThis week we told you about a Rhode Island cat who seems to have the uncanny ability to sense when death is near for residents in a care center. Caregivers say Oscar has been right 25 times.
Today there's a report out of Seattle about "Buckwheat," a cat hospice workers call "better than morphine" for their patients. Now we're hearing about yet another cat, right here in Utah, who seems to sense the same kinds of things.
In the movie "Ghost", a cat detects the presence of actor Patrick Swayze, who plays a dead man. Though others can't see him, the cat can. We're not suggesting cats can do this, but researchers have long suspected that animals have an uncanny ability to sense things we can't.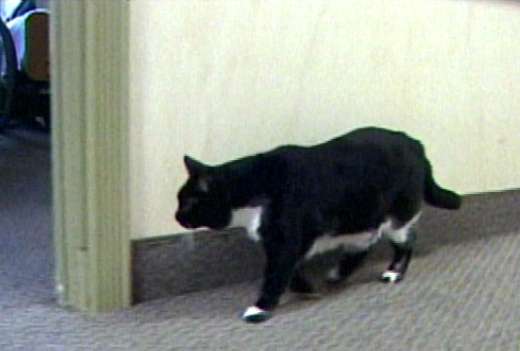 Max the cat lives at Alpine Valley Care Center in Pleasant Grove. The nonprofit facility, operated by Mission Health Services, has animals because they're therapeutic for residents, but Max is something else.
A resident there, Carma Beck, said, "He seems to know if you don't feel good. He'll come up and lay by you, just like that."
Max walks the halls, checking rooms, offering comfort to those who are down physically or psychologically. But in the throes of death, administrator Bruce Allison says, "He just lays there until they pass away. Once they pass away, then he leaves the room."
Allison says a couple of years ago, one patient very close to Max died, triggering a peculiar reaction. "Days before she passed away, Max just laid on her bed, wouldn't move. And when she did pass away, he jumped off the bed, came out the door and just howled."
Max came close to death himself about five years ago when someone left the door open at the center. He got out and was hit by a car. Residents wouldn't hear about putting him down, so family, friends and employees raised enough money to pay for his surgery. The veterinarian deducted $600 from the bill to help out.
Don't tell the folks there that Max is just an ordinary cat. Even Allison, who's not particularly a cat lover, admits Max moves him.
Max has been at Alpine Valley for the past eight years.
×
Most recent Utah stories