Estimated read time: 2-3 minutes
This archived news story is available only for your personal, non-commercial use. Information in the story may be outdated or superseded by additional information. Reading or replaying the story in its archived form does not constitute a republication of the story.
SALT LAKE CITY — High winds, pelting rain and thunderstorms swept across northern Utah Thursday in yet another storm front bringing unneeded precipitation to an already water-logged area.
Nickel-sized hail pelted much of the area, accompanied by winds that tore out trees, blew out windows and knocked out power.
Snow/Rain/Wind reports
| | |
| --- | --- |
| Alta | 3" |
| Snowbird | 2" |
| Brighton | 2" |
| ***** | ***** |
| Park City | 0.47 |
| Spanish Fork | 0.43 |
| Roosevelt | 0.41 |
| Bountiful | 0.25 |
| Syracuse | 0.25 |
| BYU | 0.23 |
| Logan | 0.20 |
| West Jordan | 0.12 |
| ***** | ***** |
| Wasatch Mtn. | 78 mph |
| Wendover | 71 mph |
| Salt Lake City | 67 mph |
| Parleys Cyn. | 62 mph |
| Draper | 59 mph |
| Centerville | 55 mph |
Shortly before 3 p.m., about 30,000 Rocky Mountain Power customers were without power, a spokesman said. More than 17,000 of those were in Tooele and Grantsville, with other significant outages affecting 2,500 on Salt Lake City's west side and 1,400 in Ogden.
By 7 p.m., power had been restored to most customers, with 2,400 residents still affected. Spokeswoman Margeret Oler said 2,000 of those outages are in Salt Lake County, with another 136 in American Fork and 200 in Ogden.
Oler said crews will work through the night to restore power.
Wind uproots trees in Huntsville
Dozens of trees couldn't stand up to the wild storm, most of them in Huntsville. Thankfully nobody was injured, but the trees -- many of which stood for at least a hundred years -- were brought down in seconds.
Twigs, branches, and leaves fall all the time from the hundreds of trees in Huntsville. Usually, it's not the trees themselves.
At least two dozen trees were uprooted when heavy winds ripped through Huntsville Thursday afternoon. One crashed into a house, another took down power lines, and most others left trails of branches, leaves and debris scattered through neighborhoods.
"We don't usually get the winds that other parts of the county get but I guess today was our turn, and we got a good dose of it," said Sgt. Ryon Hadley with the Weber County Sheriff's Office. "Now the cleanup begins,"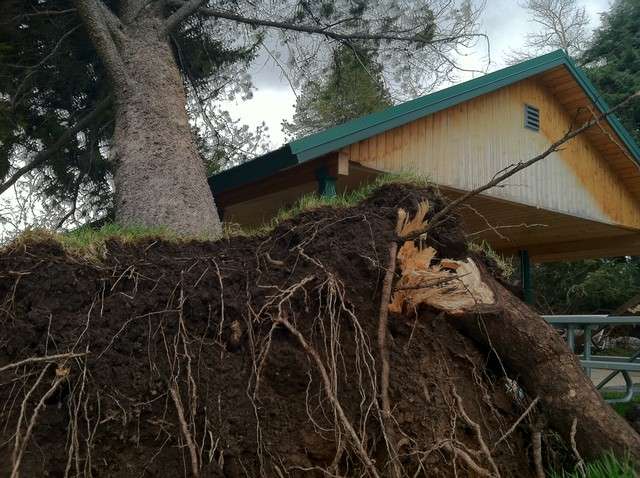 "The town will get together and clean up," said Huntsville resident Najken Harris. "That's the kind of town it is."
High microburst winds to blame
KSL meteorologist Kevin Eubank said the impressive line of thunderstorms came with such force that windows were blown out in Clearfield and trees were toppled in Tremonton.
Swirling dark clouds came in with such intensity, Eubank said several people thought they were witnessing a tornado.
"It was actually microburst winds," he said.
The severe thunderstorm warning extended from Cache County in northern Utah to Weber, Box Elder, Davis, Morgan and eastern Salt Lake County.
Although loud, blustery and severe, the storm swept through in a hurry, putting down just a little rain in most areas.
But in Ogden Valley, Huntsville was hit around 2 p.m. by "extreme wind," heavy rain and pea-sized hail, Weber County Sheriff's Sgt. Ryon Hadley said. The wind uprooted several dozen pine and cottonwood trees — some more than a century old, he said. Two fell on houses and others blocked city streets, but no major thoroughfares, Hadley said.
Eubank said winds were clocked at 78 mph at Snowbasin.
------
Story written with contributions from Amy Joi O'Donoghue, Alex Cabrero and Paul Koepp.
×
Photos
Most recent Utah stories