Estimated read time: 6-7 minutes
This archived news story is available only for your personal, non-commercial use. Information in the story may be outdated or superseded by additional information. Reading or replaying the story in its archived form does not constitute a republication of the story.
SANDY — Amid heightened police presence, students at Alta High School in Sandy are reacting to news that two administrators have been put on leave pending an investigation into racial discrimination at the school.
The investigation started after a recent spirit assembly where a student wore a white pillowcase over his head, resembling Ku Klux Klan attire.
Larz Cosby, a minority student at the school, came forward after the assembly, saying he felt targeted and was offended by the racial gesture and that the administration should have stepped in.
"So you're a supporter of the KKK and of Hitler," Cosby said. "Those are both things that are very wrong, and that's funny?"
Tuesday night, the Canyons School district sent out an open letter to the Alta community. It says the school district condemns all forms of racism, hatred and discrimination and it spells out concrete steps it plans to take.
Parents react
Earlier in the day, the parents of the student who was accused of making racial gestures to other students say this incident has been blown out of proportion.

Facebook Comment
"The KKK is something that you NEVER want to even come close to looking like. Shame on the kid for thinking that was acceptable in the first place. High school students have had enough history classes to know better." -Valerie Crawford McCorristin
They say their son did have a white pillowcase on his head at several points during the spirit assembly — which they say was not appropriate — but that he never meant for it to be a reference to the KKK.
The assembly in which this incident happened is called the "Spirit Bowl," and it's an assembly where each class dresses in their school colors: red for sophomores, white for juniors and black for seniors. Each year at the assembly, classes compete in games and dress wildly in their respective colors.
During this year's assembly, the parents of the student accused of racial discrimination say their son was chanting "white power" with members of the junior class in opposition to the students cheering "black power." Several times during the assembly, the student ran down onto the floor with the pillowcase over his head.
Opinions on incident differ
Some students seem to agree with the parents' assertion that the incident was overblown.
"I think it's been overdone a lot more than it really was," said student Alex Milner.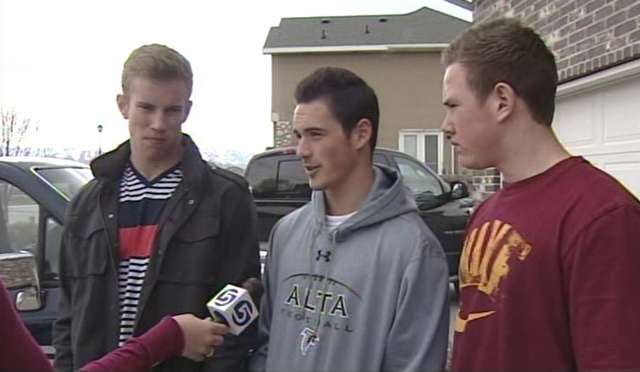 Others disagree.
"It wasn't right of our administration to just stand there and let it happen," said student Erin Foster.
Theresa Martinez, a sociologist at the University of Utah, who has been a target of racism herself for her stance on immigration issues, said she could see no humor in the act.
"Just because we don't mean any harm doesn't mean we don't play into the hands of racist imagery and racism," Martinez said. "In a state that's predominantly white, it's sometimes really easy for people to say it's no big deal."
Cosby says the administration at Alta didn't do anything about the situation, so he wrote a blog about it. That got the attention of the district superintendent, who immediately called for an investigation.
District intervenes
During the investigation, the district uncovered evidence of other racial incidents that have happened during the past year. As a result, the principal and assistant principal were put on paid administrative leave Monday night, pending further investigation.
The district also asked for more police presence to be at the school Tuesday so students would feel safe.
"As you can imagine, this investigation is serious, and it's also sensitive," said Canyons School District spokesperson Jennifer Toomer-Cook. "We're taking an abundance of precautionary measures pending that investigation."
---
Something occurred we wish had not occurred, whether it be by joke or by intention. We shouldn't lose the opportunity to have the conversation about being vigilant about protecting the goodwill of people.
–Senate Minority Leader Ross Romero
---
The student accused of racial discrimination during the assembly has a hearing with the district Tuesday that will determine if he is expelled from school. His parents say he has tried to apologize several times for his bad decision. He and his parents hope the district will allow the student back in school.
Jeanetta Williams, president of the NAACP Salt Lake branch, said the National Association for the Advancement of Colored People became aware of the incident shortly after it occurred and was "very surprised and appalled." She said the organization is satisfied with the school district's efforts, which have uncovered other incidents she declined to detail.
Similar incidents on the rise
The belief that the incident was funny or harmless is part of the problem, says the man in charge of civil rights complaints for the State Board of Education.
"The situation that happened at Alta High School is just the tip of the iceberg," said Richard Gomez, Educational Equity Coordinator at the State Office of Education.
Gomez says incidents like this are happening more and more nationwide. He says racism is often masked in humor, the result of a lack of awareness or sensitivity training.
"It's that under-the-surface kind of behavior that's related to complacency, lack of tolerance, lack of understanding that tends to prevail when these kinds of situations emerge," Gomez said.
The suspension of the Alta administrators and the student involved in the incident sends a strong message.
Stunt seen as 'teaching moment' on race
The incident has been highly talked of among students, faculty and families at Alta.
Pam Perlich, a senior research economist at the University of Utah who specializes in demographic research, said it can be hard for young people to understand complex cultural and racial problems because they have yet to develop a worldview.

Facebook Comment
"These kids were just participating in an assembly that had a color theme. The other side was chanting "Black Power" -- were they being racist toward whites? Of course not! People need to get the facts and GET OVER it." -Jenny Wickham Nelson
"Those kids are not playing with a full deck," she said. "It's adults who have that context to turn it into a teaching moment."
And it's only natural, Perlich said, for many in the Alta High community to recoil from the perception that their school is racially exclusive.
"People don't want to be accused of being racist," she said. "It's one of those things people just don't want to talk about."
Senate Minority Leader Ross Romero, D-Salt Lake, said the community can learn from the incident.
"Something occurred we wish had not occurred, whether it be by joke or by intention," Romero said. "But we shouldn't lose the opportunity to have the conversation about being vigilant about protecting the good will of people."
Rep. Curt Oda, R-Clearfield, said while the student could have chosen his attire more carefully, he doesn't want to see schools veer too far into political correctness, "creating a bunch of people who are afraid of doing anything."
Oda said older generations might react more strongly to the incident and suggested a history lesson might be in order for the students, as well a reminder that "they do have to be somewhat careful. Not everything is going to be perceived as just fun."
------
Story written by Shara Park and Lisa Riley Roche with contributions from the ksl.com news division.
×
Photos
Related links
Related stories
Most recent Utah stories