Estimated read time: 2-3 minutes
This archived news story is available only for your personal, non-commercial use. Information in the story may be outdated or superseded by additional information. Reading or replaying the story in its archived form does not constitute a republication of the story.
Jed Boal Reporting The largest wildfire in Utah's history charred more than 500 square miles, devastated ranchers and blew polluted air all across the state. But did the Milford Flat fire also stir up nuclear fallout from testing decades ago?
When that fire started 10 days ago, radiation monitors in Milford registered numbers that were truly off the charts. Opinions differ on the source. But from what we can gather, there's no danger to the public.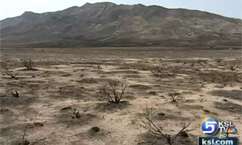 The Milford Flat fire roared through more wild land than any Utah fire ever before.
Radioactive fallout watchdogs fear the fire stirred up radiation in the soil from atmospheric nuclear tests in Nevada in the '50s and '60s.
Graphs from the Milford radiation monitor show something certainly caused the levels to spike during the fire.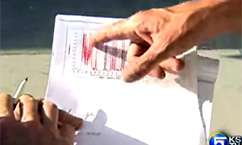 Steve Erickson, of Citizens Education Project, said, "The radiation is off the charts for one. And second, we don't believe they actually are explaining properly what has been captured at the monitoring system out there."
The National Nuclear Security Agency said the spikes came from naturally occurring radon gas and posed no danger. Erickson, a downwinder advocate, says the N.N.S.A. is wrong; the radiation is not just radon, and the levels are not as low as the N.N.S.A. is telling us.
"We want this more thoroughly investigated, and we'd like to see an independent analysis of the samples that have been collected," he said.
A monitor in Salt Lake City registered nothing unusual when smoke wafted to the north. Dane Finerfrock, director of the Utah Division of Radiation Control, says the University of Nevada operates the monitors and will check the equipment and test particulates trapped in filters.
"They've taken them to the lab and they're going to analyze them and find out what kind of radioactivity is in them. That will give us a real good clue as to what the source of the radiation was," Finerfrock said.
Those tests should give us answers in a matter of days. The critics also want to see a review of the adequacy of the monitoring system.
Again, if it is radiation, this is not a public health threat at these levels.
×
Most recent Utah stories