Estimated read time: 5-6 minutes
This archived news story is available only for your personal, non-commercial use. Information in the story may be outdated or superseded by additional information. Reading or replaying the story in its archived form does not constitute a republication of the story.
BOULDER, Mont. — At a time when much of the world is worrying about radiation from Japan, a small community of naysayers is thinking just the opposite.
They deliberately immerse themselves in radioactive gas day after day in old uranium mines in the belief that it's good for their health.
Utahns traveling to Montana for 'radon therapy'
"I do believe it — 100 percent, I do," said Salvador Alvarez of Springville.
Alvarez and three members of his Utah family are spending 10 days at a defunct uranium mine northeast of Butte, Mont.
Four mines in that area are operated commercially for a purpose most people consider quite bizarre. And most scientists are skeptical about the dubious benefits of basking in low-level radiation.
What is ... radon therapy?
"Radon therapy" is an intentional exposure to radon via inhalation or ingestion. In the late 20th century and early 21st century, some "health mines" were established in Basin, Montana which attracted people seeking relief from health problems such as arthritis through limited exposure to radioactive mine water and radon. The practice is controversial because of the "well-documented ill effects of high-dose radiation on the body." Radon has nevertheless been found to induce beneficial long-term effects.                                                                   -Wikipedia
To enter the Free Enterprise Radon Health Mine, the Alvarez family takes a 90-second elevator ride. It delivers them to a horizontal mine tunnel 85 feet below the surface.
A granite rock surface is visible throughout the mine, and the ceiling is reinforced with mine timbers. A Geiger counter clicks excitedly when held close to the walls.
Although the mine's owners have added easy chairs, couches and reading lights, it's not the sort of place most people would choose for a 10-day vacation.
"Bring a good book, nice warm clothes and you're set," Alvarez said as he stepped off the elevator for his fourth visit.
The Alvarez family comes year after year. They sit around a few hours each day, knitting, reading books, playing board games and cards, all the while breathing air that has significant levels of radon gas.
"Most people think there's a concern here. We don't," Patricia Lewis said.
Lewis and her husband own the mine and an adjacent motel where most guests spend their nights.
Lewis' grandfather discovered uranium in the area but eventually stopped mining when visitors began claiming improvements to their health. He converted the uranium mine into an underground spa in 1952.
Lewis said she currently has a mailing list of about 1,500 regular customers, mostly in the United States and Canada.
The alleged healing power of radiation
At one time, a dozen mines in the area were operated as radon health mines. The number has shrunk to four in recent years as owners have found profits to be elusive. Lewis charges her customers $7 an hour or $250 for a 10-day treatment program.
While in the mine, customers can use their laptops and enjoy high-speed internet access.
Pam Alvarez first tried the spa treatment several years ago. At that time, she says she had constant, severe pain that doctors and drugs couldn't fix.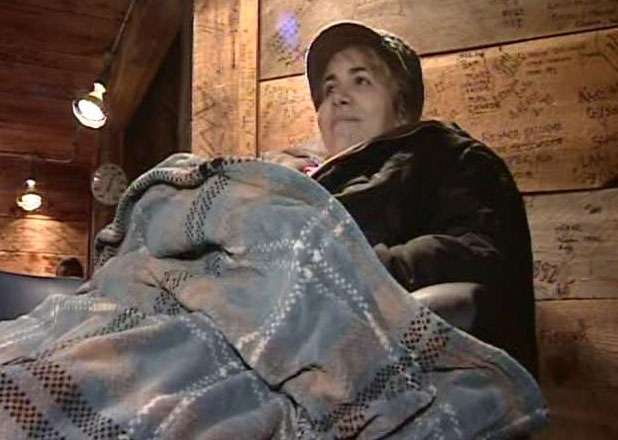 "I was diagnosed at one point with ankylosing spondylitis, which of course I still have," she said.
She also says she suffered from fibromyalgia, ulcerative colitis, asthma and other ailments.
Her husband was skeptical until she traveled to Montana, spent many hours in the radon mine and then returned home.
"When she came back," Salvador Alvarez said, "I was like, 'Hallelujah, God!' I believe in miracles."
When Pam Alvarez's pain went away, other family members started to visit the mine. Often they decide not to go underground and choose instead to sit for many hours in the above-ground Radon Room.
The sparsely decorated room has vents which emit a noticeable whooshing sound as gas is pumped in from the mine.
Pam Alvarez's mother prefers to sit in the Radon Room and knit, rather than descend the elevator into the mine.
Sal and Pam's daughter, April, said she also has ankylosing spondylitis. It's a painful inflammatory disease that typically affects the spine and pelvis. April Alvarez said the radon treatments bring relief.
"It kind of puts the pain that I had in my spine in remission so that I don't have pain in my back," she said.
What the experts say
Most of the guests at the radon mine spend 10 days. During that period, Lewis said, they usually absorb approximately the same amount of radiation that most people get in a year from natural background sources.
That's considered low-level radiation, but Lewis said it is significantly above federal health standards. That's why radon therapy claims are a hard sell to skeptical scientists and to a public that tends to fear anything radioactive.
---
My gut feeling is there may be [a benefit} but there's not a lot of science to support it. And for safety and health, we generally assume that we do not have a beneficial effect.
–Scott Miller, UofU radiobiologist
---
#miller_quote
Scott Miller, a radiobiologist at the University of Utah, says some scientific studies do suggest possible health benefits from low-level radiation.
"It's a suggestion, and it's hotly debated," Miller said. "It's a very emotional topic in the radiation field."
The studies in question have been disputed, he said. As one example, Miller cites a study showing that workers at nuclear plants often have better than average health.
Some scientists question whether that study properly considered such health factors as income levels and cultural differences, he said.
Many scientists believe there is no safe threshold for radiation. Mainstream scientists blame higher levels of radon for about 20,000 cases of lung cancer in the United States each year. But less is known about the effects of radiation at low levels, as found in the Free Enterprise mine.
One hotly disputed theory is that low-level radiation improves the immune system. Miller thinks there may be something to it.
"My gut feeling is there may be," he said, "but there's not a lot of science to support it. And for safety and health, we generally assume that we do not have a beneficial effect."
That point was echoed by Rusty Lundberg, Utah's director of radiation control, who emphasized the dangers of radon gas.
"(The EPA) has been clear about the fact that exposure to radon gas increases the risk for lung cancer," Lundberg wrote in an email to KSL News.
He noted that his agency, as well as the EPA, have a strong commitment to educating the public about the danger of radon gas and to helping homeowners remove high levels of radon from their homes.
"In our opinion," Lundberg wrote, "there is simply not sufficient, conclusive information that addresses whether short-term exposures to radon are indeed therapeutic or not."
But radon therapy believers claim science is on their side. They say radon gas cures or helps everything from hepatitis to arthritis and from high-blood pressure to psoriasis.
"You know, you can say what you want," Pam Alvarez said. "I know what works for me."
E-mail:hollenhorst@ksl.com
×