Estimated read time: 1-2 minutes
This archived news story is available only for your personal, non-commercial use. Information in the story may be outdated or superseded by additional information. Reading or replaying the story in its archived form does not constitute a republication of the story.
SALT LAKE CITY -- A resolution about to go before the Utah Legislature next week will set out to correct a problem with the current state flag.
We drive by flagpoles every day -- many fly the Utah state flag. There are dozens and dozens on poles throughout the entire state. But every single one has the wrong design.
---
We feel that it's important that if you're going to do something, you do it right.
–John Hartvigsen
---
John Hartvigsen is a vexillologist, or flag expert. You want to know anything about flags, he's the guy.
Utah has had three flag designs over the years, dating back to 1903. After some redesigns and alterations, the official state flag was adopted by the Legislature in March 1911.
But something happened in 1922.
"The 1847 was moved from its correct position right below the word Utah on the shield, to a place below the shield," said Hartvigsen. "That has been followed by flag manufacturers ever since, even though it's incorrect."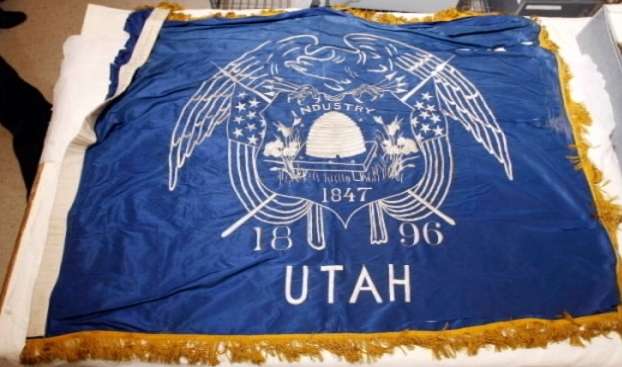 The error was discovered a number of years ago, but nothing was ever done about it -- until now.
"We feel that it's important that if you're going to do something, you do it right," said Hartvigsen.
So next Wednesday, the Legislature will be presented with a resolution for the governor to sign that requires from now on, all newly-manufactured flags use the correct design -- the one with 1847 on the shield.
"That doesn't mean that flags currently being displayed have to be discarded, it just means as we make new flags let's do it correctly," Hartvigsen said. "Then as the old flag wears out, replace it with a good one."
The new flag design also has a few other minor changes to the beehive, the sego lilies and the American eagle.
E-mail: kmccord@ksl.com
×
Related links
Most recent Utah stories