Estimated read time: 3-4 minutes
This archived news story is available only for your personal, non-commercial use. Information in the story may be outdated or superseded by additional information. Reading or replaying the story in its archived form does not constitute a republication of the story.
Sam Penrod and Carole Mikita Reporting"Only once before has a president of the church stood where I stand today, to memorialize a centennial of the birth of Joseph Smith Junior."
A night of history for the Church of Jesus Christ of Latter-day Saints. It's the 200th anniversary of the birth of Church founder Joseph Smith.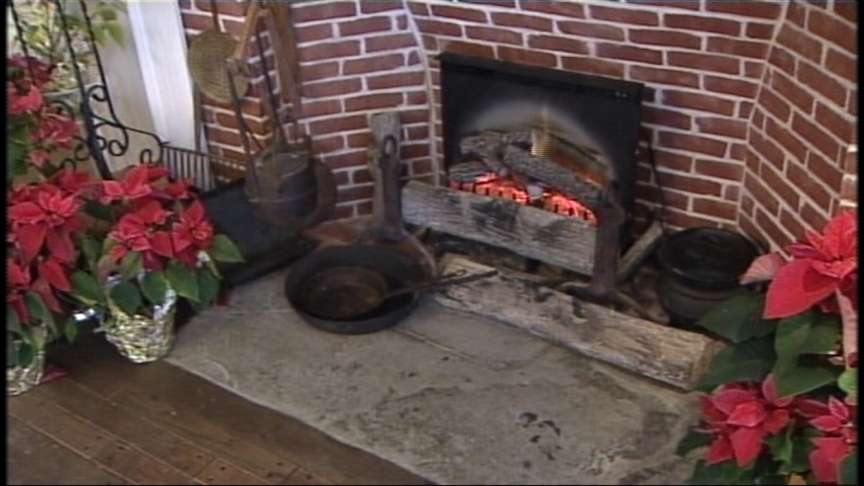 Joseph Smith was born in Sharon, Vermont. A hearthstone is one of the only remnants of the original cabin where Joseph Smith was born two hundred years ago Friday. It was the backdrop for President Gordon B. Hinckley as he addressed church members around the world, on what he called a day of remembrance.
Sharon Vermont today is a quiet and rural place. This time of year rivers flow underneath sheets of ice, wild turkeys roam the hillsides.
President Gordon B. Hinckley: "Two hundred years ago, on this very day, in this very place, there was born a child who was prophetically named Joseph after the name of his father. He became the prophet, seer, and revelator of the Church of Jesus Christ of Latter-day Saints. He gave his life testimony of the truth."
Since 1905, a granite monument has stood as a tribute to Joseph Smith. One hundred years ago Friday the monument was dedicated by his nephew, Joseph F. Smith, who was then President of the Church. Now, another President of the Church President, Gordon B. Hinckley, personally led the finale to a year long church wide celebration.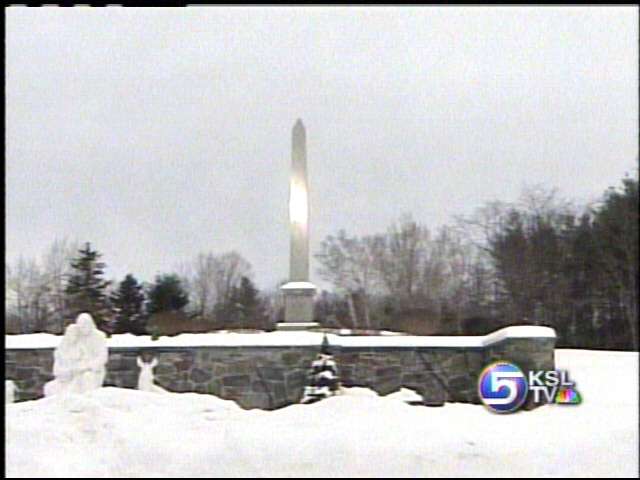 President Hinckley: "Tonight we are here on this significant anniversary, in the very place of his birth, we pay tribute and honor. We give praise and reverence. We give thanks to the God of heaven for his appointed prophet in this the dispensation of the fullness of times."
And while Friday was a celebration of history, certainly it will go down in the history of the church -- three presidents of the church who have been in the same place, on the same day, exactly one hundred years apart.
Much of the program Friday night originated from the conference center in Salt Lake City. It was the culmination of a year-long commemoration for Latter-day Saints about the life and teachings of Joseph Smith, from an academic symposium at the Library of Congress to thousands of young people celebrating in stadiums throughout the state of Utah.
Friday evening's emphasis was his faith and legacy. Both in song and through written word the message from church leaders in Salt Lake: to know this faith is to understand the teachings of Joseph Smith.
President James E. Faust, Second Counselor, First Presidency: "Joseph Smith will be discussed, debated, and challenged, but no one can argue with the success of the work which he introduced."
They spoke of the difficulties of his life, the challenges of establishing and founding a church, and where that work is today.
President Thomas S. Monson, First Counselor, First Presidency: "We do not worship the prophet Joseph; however, he left behind a legacy that enables some 12 million followers today on every continent to proclaim him as a prophet of God."
President Monson encouraged church members to continue the work, the vision of Joseph Smith, as did Elder M. Russell Ballard, who traveled with President Hinckley to Vermont. Joseph Smith is his great-great uncle. He called it a special privilege to be at his birthplace Friday.
Elder M. Russell Ballard, Quorum of the Twelve Apostles: "Let us ever thank God for the prophet Joseph Smith who began his mortal life here in this hallowed, peaceful woodland 200 years ago."
Rebroadcast 9:30 p.m. today on BYU Television and 10 a.m. Sunday on KBYU-TV.
×
Related links
Most recent Utah stories