Estimated read time: 2-3 minutes
This archived news story is available only for your personal, non-commercial use. Information in the story may be outdated or superseded by additional information. Reading or replaying the story in its archived form does not constitute a republication of the story.
Tonya Papanikolas reportingMost of us here at KSL like to think our jobs are pretty difficult, and that we couldn't be replaced.
But this morning, we found some kids trying to show us up! They are learning, though, what most people will never believe, that putting on a newscast is real work!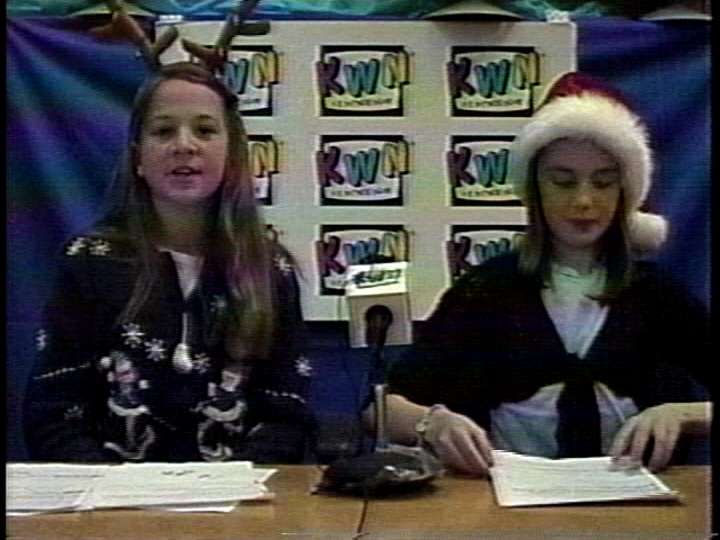 The kids know it takes a whole team of people to get a newscast on the air.
In our control room at KSL, the director, producer and technical crew control the newscast. Students at Boulton Elementary school may not have a control room, but they still know a lot about what all these people here do.
Getting ready for a newscast takes a lot of preparation. Just ask the kids at Boulton Elementary School.
Twelve students here produce a student newscast every Wednesday.
"Good morning. This is Boulton Elementary Kid Witness News for Wednesday, December 21st."
The students deliver announcements...
"Today is the Christmas sing-in in the lunchroom for all the students."
They spotlight other kids...
"Emma, what do you like to do at school?" "Math."
And they even deliver breaking news...
"Think pink for Mrs. Richards. She will be having a girl, and they plan on naming her Lucy."
Of course, don't forget about the weather...
"Brr, it's going to be a chilly one today. So you'd better bundle up. It's only going to get to 37 degrees."
The students rotate jobs so they each get a chance to anchor.
Here at KSL, our anchors read the news from teleprompters. But at Boulton, the kids use paper outlines and memorization.
Hannah Petersen: "It's pretty fun. I like being kind of the star."
The executive producer makes sure everything is going smoothly...
"Speak louder."
While the prop coordinator takes care of the music.
Josh Blotter, Proper Coordinator: "The scariest part of my job is messing up and not turning on the stereo at the right time."
The kids all have important jobs, and they work hard all week preparing. Upstairs, they edit their stories on computers. And they interview people, like crossing guard Bill.
"Do you like your job?" "Oh, yes, I'll say. It's the best job in the world."
The kids say they have a great job, too.
Hannah Petersen, Journalism Student: "I've learned a lot from doing this. I might want to do it when I grow up."
Some of us already fear for our jobs-- these kids were good! They're able to run this program because a parent applied for a Panasonic grant last year. They started out doing documentaries and just added the newscast a couple of months ago.
×
Most recent Utah stories