Estimated read time: 2-3 minutes
This archived news story is available only for your personal, non-commercial use. Information in the story may be outdated or superseded by additional information. Reading or replaying the story in its archived form does not constitute a republication of the story.
SPRINGVILLE — A 12-year-old Springville boy who had been missing for over a week returned home Monday, his father confirmed.
"I just got the call at 7 o'clock this morning," Dennis Stilson said, noting that he was feeling "better now" that his boy, Chad, had returned.
Chad Stilson had last been seen Jan. 22 when he left home after being grounded for getting into some trouble at school. The boy crawled out of his bedroom window around midnight and hadn't been seen since, though some people reported seeing someone who fit his description near Utah Lake and in Hobble Creek Canyon.
Dennis Stilson said the boy was "fine," but didn't explain where he had been.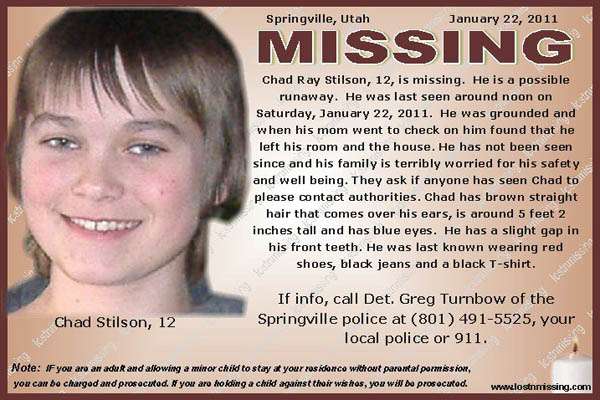 "He doesn't want to talk," he said.
Stilson said Chad returned to his mother's home, attempting to enter only to find the door locked.
"Why he didn't knock or ring the doorbell, I don't know," he said.
The boy then went to the home of a nearby friend, whose front door was unlocked, and happened upon his friend's mother, who walked him home. Stilson said his son has been sleeping since his return.
"I'm way relieved that he's back, of course, but now I've got to cope with the long-term healing and what's going on in his head," he said.
Dennis Stilson, who formerly worked as a bounty hunter, said he worried during his son's absence, considering the various situations the boy could be in.
"Last night was the worst," he said. "I'd had more bad dreams last night than ever before. I kept going back to what I dealt with as a bondsmen. You see the long end of the food chain. It could have been lots worse."
Chad's return follows a weekend search involving hundreds of volunteers who went door to door asking residents if they had seen Chad and asking them to keep an eye out. The search was organized by the Garrett Bardsley Foundation, which was created by Kevin Bardsley, whose son Garrett disappeared during a camping trip in the Uinta Mountains in 2004 and was never found.
E-mail: [ emorgan@desnews.com](<mailto: emorgan@desnews.com>)
×
Related stories
Most recent Utah stories