Estimated read time: 3-4 minutes
This archived news story is available only for your personal, non-commercial use. Information in the story may be outdated or superseded by additional information. Reading or replaying the story in its archived form does not constitute a republication of the story.
PROVO -- It looks like Jimmer Fredette's decision to come back for his senior season was a wise choice. He is turning lots of heads and not just those in his own conference or in the western region. He's been getting national attention all year from analysts and commentators, now some bigger names are taking notice after his 43-point night in the Cougars' 71-58 win over the No. 4 team in the country, the San Diego State Aztecs.
After his own 47-point, 18-rebound performance, NBA star Kevin Durant said on Twitter that "Jimmer Fredette is the best scorer in the world!"
---
Jimmer Fredette is the best scorer in the world!
–NBA star Kevin Durant via Twitter
---
Wizards' high-profile rookie John Wall said that he was "cold." Even pop star Nelly got in on the mix and told his almost one million followers that Jimmer is "the truth."
Jimmer is becoming a basketball legend.
But when you ask him how he feels about all the praise, he is quick to downplay it all.
"I was making shots again tonight, just got in a rhythm," Fredette said. "My teammates did a great job of setting screens for me, and getting me into opportunities to make baskets. Fortunately they were just going in."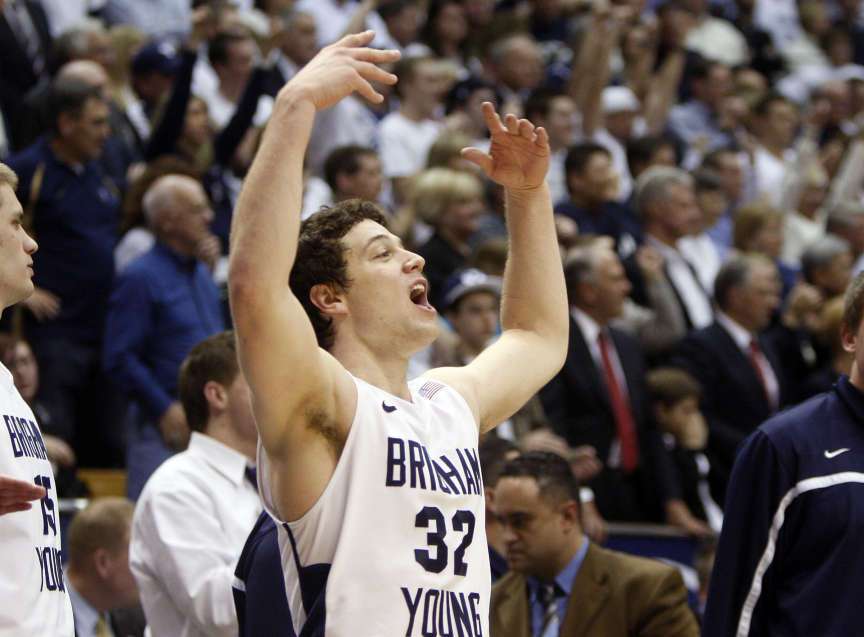 Which was a good thing, because aside from sophomore Brandon Davies' 14 points (on 6 of 8 shooting) the rest of the team had no good fortune when it came to shooting the basketball. But one aspect of the game that should not be overlooked was how hard the whole team played defensively.
The Cougars held the Aztecs to 35 percent shooting, had nine blocks on the night, five of which came from backup F/C James Andersen, and forced 12 turnovers, uncharacteristic for a stingy San Diego State team. Senior point guard Jackson Emery scored only four points, but held the Aztec's talented point guard DJ Gay to just two points, which actually came from free throws.
"It was a good team win, everybody really helped in some way," head coach Dave Rose said. "We really played together as a group, with one purpose, making winning this game the number one priority."
Considering the Aztecs dominant frontcourt, it was no surprise the Cougars lost the rebounding war (35-31), but they won enough battles to keep control of the game. BYU's starting frontcourt of Hartsock and Brandon Davies combined for 12 rebounds, but also kept enough balls alive to allow the wing players to scoop up a few loose balls and get BYU's transition game going.
And while the Aztecs star forward Kawhi Leonard appeared to have a statistically dominate game with 22 points and 15 rebounds, he also had six turnovers and missed 12 of his 20 field goal attempts.
"I think the key to the win was our big guys," Fredette said. "Our guys that came in off the bench and just rebounded the heck out of the ball in the second half."
Now the Cougars will try to avoid a hangover as they head into the prototypical letdown game against the New Mexico Lobos (14-7, 2-4). Don't let the Lobos record fool you; any game played in the pit is a tough game.
(Picture courtesy Jeffrey D. Allred, Deseret News)
×
Related stories
Most recent Utah stories