Estimated read time: 2-3 minutes
This archived news story is available only for your personal, non-commercial use. Information in the story may be outdated or superseded by additional information. Reading or replaying the story in its archived form does not constitute a republication of the story.
Amanda Butterfield ReportingThe death of a Salt Lake man from carbon monoxide poisoning has many wondering if their flu-like symptoms are more then just the flu.
The man was unknowingly poisoned at his home over several days. He eventually died, but even if he had caught the problem, long-term damage was likely already done.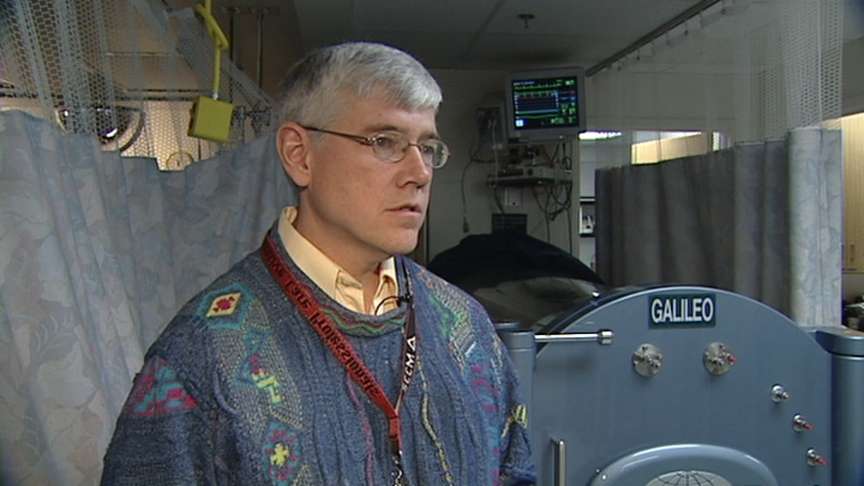 LDS Hospital says they have seen a rise in folks with carbon monoxide poisoning this winter. They've treated about twenty patients in the past month, and though the patients caught it before it killed them, it's probably going to cause them some health problems.
Dr. Weaver, LDS Hospital: "The problem is not over for sure."
Dr. Lindell Weaver heads up Hyperbaric Medicine at LDS Hospital and if a someone has been poisoned bad enough, he puts them in here the chamber.
Dr. Weaver: "What you're looking at here is a hyperbaric oxygen chamber."
Inside patients breathe pressurized oxygen that rids the body of the deadly toxin. And if poison victims make it in here, they may be alive, but they could suffer long-term problems.
Dr. Weaver: "A person who has CM poison is at risk of developing problems, usually with thinking depression, nuero problems."
They could have trouble focusing, with short-term memory, and it can even change their personality.
And it's all preventable.
Dr. Weaver: "You've gotta think about sources, car, water heater, furnace, so forth."
In the case of Bruce Jensen, who passed away Tuesday, it was his boiler leaking the deadly fumes. He'd complained to friends he felt sick, but everyone figured it was the flu.
Dennis Ferguson: "We all feel a little stupid we didn't recognize it as well."
Little did Jensen know, a cracked gasket on his boiler was leaking carbon monoxide. So is yours?
Dr. Weaver: "Unfortunately right now somebody is being poisoned right now in Salt Lake City, certainly within Utah."
Carbon monoxide is the most common poisoning in the United States and all you've got to do to prevent it is be aware of it, spend a little money for a detector, check on your furnace.
×
Most recent Utah stories