Estimated read time: 2-3 minutes
This archived news story is available only for your personal, non-commercial use. Information in the story may be outdated or superseded by additional information. Reading or replaying the story in its archived form does not constitute a republication of the story.
Carole Mikita Reporting One thousand people gathered to mark President Gordon B. Hinckley's 97th birthday. The leader of The Church of Jesus Christ of Latter-day Saints was in Provo for the dedication of a building named for him on BYU campus.
One year ago, President Hinckley participated in the groundbreaking ceremony. Today, construction is complete outside and in, with tributes to his family, his father Bryant and late wife, Marjorie. Some wood on the railing of the main staircase came from a tree in President Hinckley's backyard.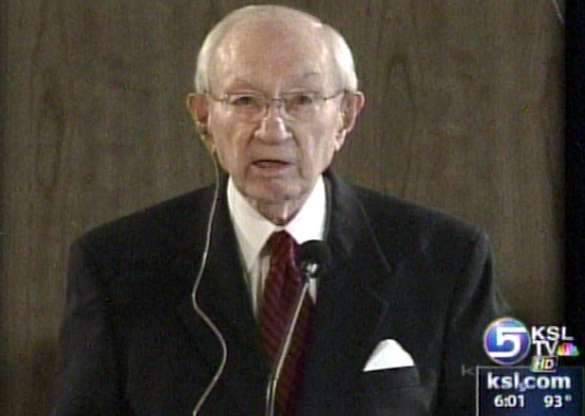 Since President Hinckley loves history, one of the areas on the first floor is devoted to telling the history of the school. The old photos include one, of President Truman, who spoke at BYU stadium in 1952.
BYU President, Elder Cecil O. Samuelson, said, "President Hinckley, as you have changed the skyline of the church throughout the world, so does the completion of this beautiful structure change the skyline of Brigham Young University."
As chairman of BYU's Board of Trustees, President Hinckley approves money for new buildings, but not this one. His son, Elder Richard G. Hinckley, said, "I think he's thrilled and honored. He was particularly thrilled that there were 70,000 donors."
Those donors included 8,000 students, many of whom were there today.
Student Scott Daly said, "It's very fitting for President Hinckley, beautiful building."
Today's technology joined photographs, his writings and university memorabilia in the time capsule. There were personal items too -- a pair of cufflinks and a favorite tool.
Pres. Hinckley said, "My life has been one of many interests and facets with family, friends and associates. What more could one ask for? Nothing, is my reply."
Then there was a fitting tribute to the oldest living leader of their church, to the tune of "Happy Birthday."
The new building will be a gathering spot on campus for alumni and a new place to host guests.
×
Related links
Most recent Utah stories