Estimated read time: 2-3 minutes
This archived news story is available only for your personal, non-commercial use. Information in the story may be outdated or superseded by additional information. Reading or replaying the story in its archived form does not constitute a republication of the story.
Sam Penrod reportingAnother fatal accident on US Highway Six. Three people are killed when two vehicles crash head on.
The fiery crash happened just before 4 pm, not far from Soldier Summit. In all, two adults and a child were killed, three others were seriously hurt.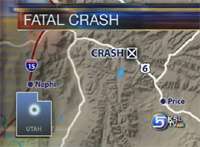 It's a very sad situation tonight along Highway Six, where three people were killed in a wreck the Highway Patrol says was caused by their vehicle drifting into the opposite lane of traffic.
The crash was reported around 4:00 this afternoon, just east of Solider Summit, in a remote stretch of Highway Six. According to the Highway Patrol, which released photos of the accident, a red SUV traveling east on Highway Six, for some unknown reason crossed the center line and struck a white pick up truck head-on. It was a terrible collision, which caused the SUV to go up in flames.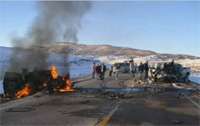 All three occupants of the SUV were killed, including one man, another adult and a child, age still not known. The victims have been taken to the medical examiner for positive identification.
Those in the pick up truck suffered serious injuries, including broken legs. They are being treated at the hospital in Price.
The Highway Patrol says that even with Highway Six's reputation as a deadly highway, most crashes are human caused.
Justin Cloward/ Utah Highway Patrol: "I don't believe the canyon is a dangerous place. I believe the people that drive it need to slow down, not be in a hurry. Most of our crashes are due to speed."
Investigators are still looking at what factors may have been involved in this accident, but say it may be a few days before they have more answers.
Highway Six was closed in both directions for three hours, but the road re-opened tonight at 7 pm.
×
Most recent Utah stories