Estimated read time: 2-3 minutes
This archived news story is available only for your personal, non-commercial use. Information in the story may be outdated or superseded by additional information. Reading or replaying the story in its archived form does not constitute a republication of the story.
Tonya Papanikolas reportingWhile a mother is out, her house catches fire, with eight kids inside. Thankfully, all the kids were able to get out safely. But the family lost their entire basement, totalling more than 100-thousand dollars in damage.
It's hard to deal with this kind of loss right before the holidays. Firefighters say they believe the fire was accidental and started downstairs near the gas fireplace, which was on.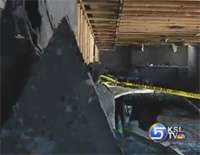 Amazingly, the family says all the kids had decided to have a slumber party upstairs, so they were out of immediate danger.
The Bice family may have lost their house in a fire right before Christmas, but they say they have a lot to be thankful for.
Tammy Bice, Lost Home in Fire: "What matters most is still the best present I could get-- all my kids safe after something that scary."
Tammy Bice was out shopping when the fire started. She'd left eight of her kids at home, including 17-year-old Kayla.
Kayla Solum, Found the Fire: "I walked through the door, smelled smoke and saw a little bit. So, I walked into the kitchen to see if it was in there."
Kayla didn't find anything, so she ran downstairs with her brother, and saw a flame coming from the left-hand corner of the basement.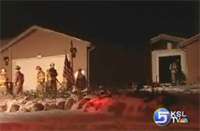 Kayla Solum: "I was like, 'Oh crap,' you know. But the first thing I thought of was just get the kids out of the house."
That's exactly what she did, piling everyone into her car outside. Another trip downstairs proved she wouldn't be able to put the fire out by herself.
Kayla Solum: "It was just flames everywhere. I couldn't even tell you anything that I saw at all, just flames."
Kayla called 911 from her car. Then the family watched as their house was destroyed.
Tammy Bice: "Everyone came rallying right away. So they've been good to us."
All day neighbors, friends and relatives have been helping the Bice family salvage what they can.
Jeff Whipple: "We're all just very grateful that the family got out okay."
In all the mess, Tammy did recover something important.
Tammy Bice: "Oddly enough, I found this on the floor on my office. It's got all of my kids' social security cards, birth cards."
The family has been staying with relatives. Unfortunately, they didn't have any renter's insurance, so they'll have to start over.
To make matters worse, today was Kayla's birthday, and Tammy's husband is out of town working on-- of all things-- relief efforts in New Orleans. Contributions to the family can be made at any Zions Bank, in the name of the Bice family.
×
Related links
Most recent Utah stories