Estimated read time: 4-5 minutes
This archived news story is available only for your personal, non-commercial use. Information in the story may be outdated or superseded by additional information. Reading or replaying the story in its archived form does not constitute a republication of the story.
SOUTH JORDAN -- The man shot and killed by police outside the LDS Church's Oquirrh Mountain Utah Temple was heavily armed and running toward a group of people with a loaded shotgun when he was shot, according to police.
Police released the man's name on Monday. They said Daniel M. Pogue, 54, had already unloaded two shotguns, one rifle and multiple swords out of his vehicle and thrown them through the gate onto temple property Saturday when he was confronted by police.
Lt. Dan Starks with the South Jordan Police Department says he doesn't know what Pogue's motivations were, but he did say, "I think it's safe to say it wasn't anything that was going to be positive in nature. It seems to me it's likely we saved lives."
He had also been seen "chopping on the fence surrounding the temple" with a machete, according to a statement from South Jordan police.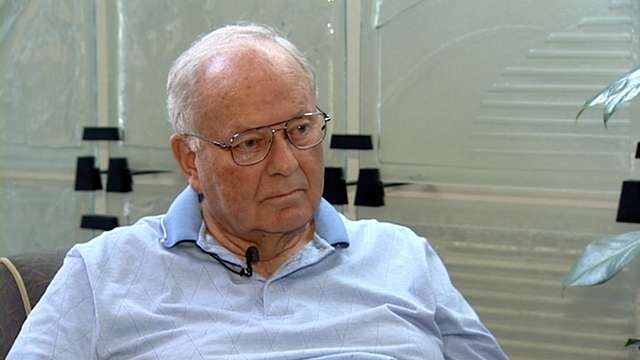 Pogue, who had been pointing a third shotgun at the temple and bystanders, ignored repeated commands to drop his weapon and ran toward a group of bystanders with a shotgun still in his hand, according to police.
"Police, fearing for the safety of those bystanders in the immediate area, and with complete non-compliance from the suspect, fired one round which struck the suspect and stopped his movement," South Jordan Police said in a statement Monday.
Gunman told bystanders to go home
Some of those bystanders told the Deseret News and KSL TV Monday they were afraid when they saw Pogue running toward them.
Ron Ashley and Sophal You were taking a walk around the temple grounds on Christmas Day, when both noticed a man unloading items from his vehicle, which was parked parallel along the street next to the outer property of the temple, and tossing them onto temple grounds. "He said go home, the birds are coming," Ashley said. "You need to go home. They were here last night, did you see them? " "During this process, he had pushed a long gun, a rifle or a shotgun and another case, and the zipper was open so I could see it was a gun, a weapon," Ashley continued. You said one of the weapons was a sword.
---
He said, 'Go home, the birds are coming. You need to go home. They were here last night. Did you see them?' I had no idea what he was talking about.
–Witness Ron Ashley
---
"He shouted at me to 'Go home,' three times," Ashley said. You said Pogue pulled his shirt collar down and she could see something that looked like scratches or cuts that went from his cheek down past his neck.
As Ashley continued talking to Pogue, another bystander from across the street told him to get back and that he was on the phone with 911.
Witnesses recall shooting
When police arrived, Ashley said he heard officers repeatedly yell "get down" to Pogue.
As soon as the officers pulled up, Pogue grabbed a shotgun from his vehicle and tried to hide behind his car, according to police. When he refused to obey the commands of officers, he took off running toward You and several others.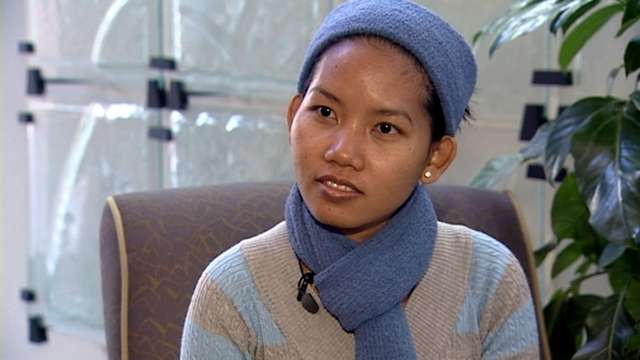 "I said, 'He's running to us, he's coming, we need to leave,'" she said. "I was scared."
After the shooting, detectives discovered the shotgun Pogue was carrying was loaded. He had additional ammunition on him and at least 50 more rounds of ammunition for the other weapons he had brought, according to police.
In addition, investigators ended up recovering three swords and a machete at the scene.
Gunman may have had mental illness
Police confirmed Monday that family members indicated there was a history of mental illness with Pogue, the extent of which was still being investigated. But KSL spoke with Pogue's estranged wife who said he has no history of mental illness other than depression.
She says he was upset on Christmas, because he was unable to see his daughter, whome he had not seen for quite a while. She also says he is kind, and not violent to her knowlege.
A motive for the incident was also still being investigated Monday.
Neighbors on Sunday said they observed Pogue about 90 minutes prior to the incident at the temple in front of his driveway at his South Jordan basement apartment and he appeared to be distraught or agitated. Some thought he may have locked something in his car, like his keys, as he appeared to be staring at his vehicle and talking to himself.
Court records show Pogue may have been having financial problems in recent years. Some of the businesses associated with his name included Vacation Homes Intl., Project Once Inc. and several construction businesses.
Compiled with contributions from Pat Reavy, Jennifer Stagg, John Daley and Marc Giauque
×
Related stories
Most recent Utah stories