Estimated read time: 2-3 minutes
This archived news story is available only for your personal, non-commercial use. Information in the story may be outdated or superseded by additional information. Reading or replaying the story in its archived form does not constitute a republication of the story.
Ed Yeates ReportingBomb "tossin" the safe, harmless way, that was the challenge today for student-built robots-- carrying egg bombs that went splat instead of boom.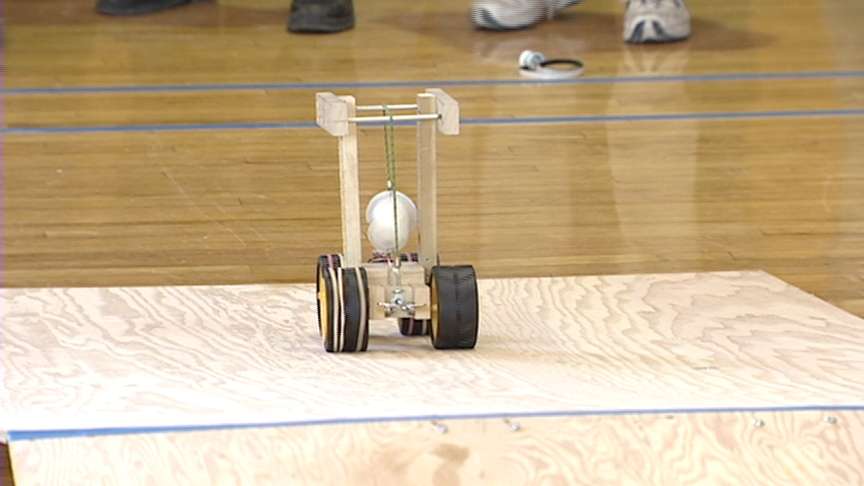 Some were speedy; one traction device kept moving even after it tipped on its head. Most carried the eggs high in a catapult. Some scooped them up. One shot it out a cannon.
They turned, swerved, tipped over - but only a few stayed on target up and over the ramp - coming real close to tossing the egg bomb into a container.
Paul Borgmeier, Professor, U of U Mechanical Engineering: "Engineering is hard in nature, harder than it looks. And I think that is a good lesson for the kids to figure out that it looks a lot easier than it really is."
University of Utah student engineering teams who designed these contraptions are pretty ingenious.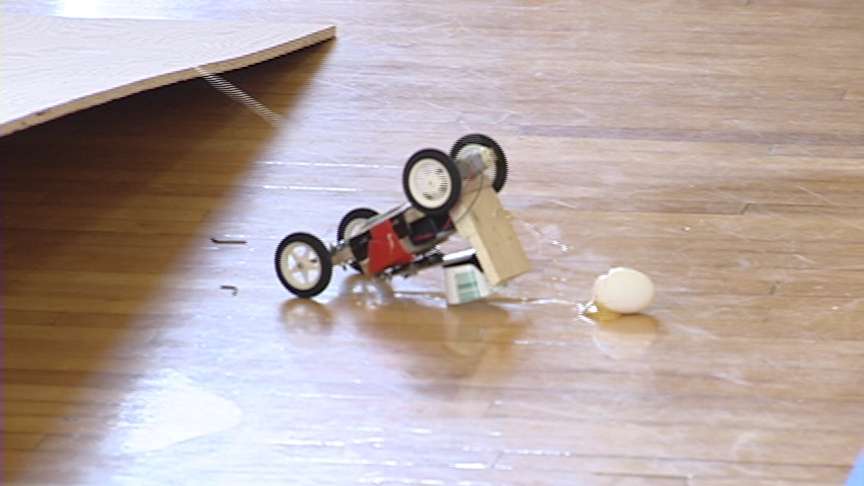 J.D. Baranowski, Student Engineer: "I was kind of worried when I saw it go off on the left side. But then I saw it throw it. I felt like this thing was like a quarterback. I thought it was going in, but it was pretty close."
The robots were a pretty big challenge for these students. All the sensors, the driving mechanisms, the triggers had to be built for $15 or less. None of the devices got the egg into the container, but the winner won simply by having the fewest points deducted from its score.
No cash prize for these guys, something even better.
Tony Carver, Winning Team: "Means we aced the final. Means we're the happiest people in this room right now."
Aaron Bordner, Winning Team: "Big relief, big relief. I've got a couple of finals next week and it's going to be nice not taking this one."
Shubha Chakravarty, Winning Team: "It's great, you know. It's a group thing that we did, but it turned out beautiful."
No engineering final and a beautiful machine, what more could a college student ask for?
×
Most recent Utah stories