Estimated read time: 2-3 minutes
This archived news story is available only for your personal, non-commercial use. Information in the story may be outdated or superseded by additional information. Reading or replaying the story in its archived form does not constitute a republication of the story.
Jed Boal ReportingAirmen from Hill Air Force Base continue to play important roles in the war on terror. Those who keep the fighter aircraft in the air and the weapons ready have a new commander who is a first for the base.
Brig. Gen. Kathleen Close is the first female commander of the Ogden Air Logistics Center. She takes command at a time when the demands on the center are greater than ever before.
The Ogden Air Logistics Center of Hill Air Force base makes sure fighter aircraft and weapons systems are ready for war around the world and the war on terror has tested it. During his four-year command, outgoing commander Lt. Gen. Kevin Sullivan oversaw record numbers of repaired aircraft, personnel deployed and munitions sent off on operations.
He credits his workforce and the community. "I was continuously amazed how this community and this state bent over backwards time and time again in support of Hill Air Force Base," he said.
Lt. Gen. Sullivan was awarded the Distinguished Service Medal and a third star, he moves on to an assignment at the Pentagon. He passes command to Brigadier General Kathleen Close, who is now responsible for the largest workforce in Utah, with more than 23,500 civilians, military and contractors.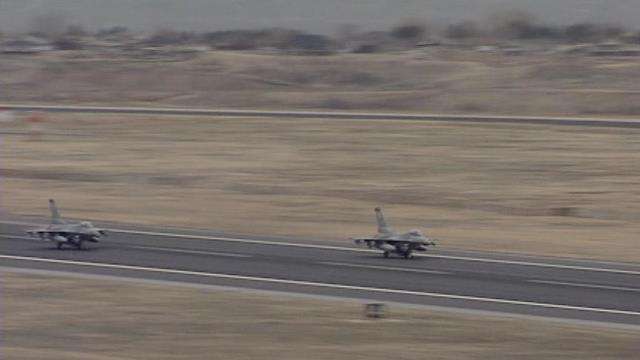 Brig. Gen. Close was assigned to Hill once before, as a maintenance supervisor in the early '80s. About the new challenge, she says. "It is still that great, great feeling of work ethic and getting things done."
And wartime challenges aren't going away. The average age of an Air Force aircraft is 24 years. The fighter plane see a lot of combat and will get overhauls at Hill until replacements are phased in.
Brig. Gen. Close said, "Is it a liability? I don't think so because the great folks that we have are here in the United States supporting them; and the folks oversease maintaining them make sure that when a pilot steps in an airplane, it's the best they can have."
General Close says the Air Logistics Center needs to continue to become more efficient and transform. As for being the first female commander at Hill, she says the the opportunities are the same for men and women in the Air Force.
×
Most recent Utah stories