Estimated read time: 5-6 minutes
This archived news story is available only for your personal, non-commercial use. Information in the story may be outdated or superseded by additional information. Reading or replaying the story in its archived form does not constitute a republication of the story.
PROVO -- A massive fire destroyed the Provo Tabernacle, a historic building that has been a landmark in Provo for more than a century.
Friday night the fire that began just before 3 a.m. continued to smolder, with a giant pile of rubble inside still burning. Firefighters gave up on putting water on the blaze and said they will let the fire burn out. They said water will only do more damage.
Smoke billowed from the building earlier as firefighters worked on the four-alarm fire. They have been at the building all day dousing hot spots.
Provo Fire Marshal Lynn Schofield said, "All of the roof has collapsed into the structure, and now it's just a process of putting out the burning debris in the structure and getting it safe for us to go and take a look at it."
He said crews will be on the scene all night.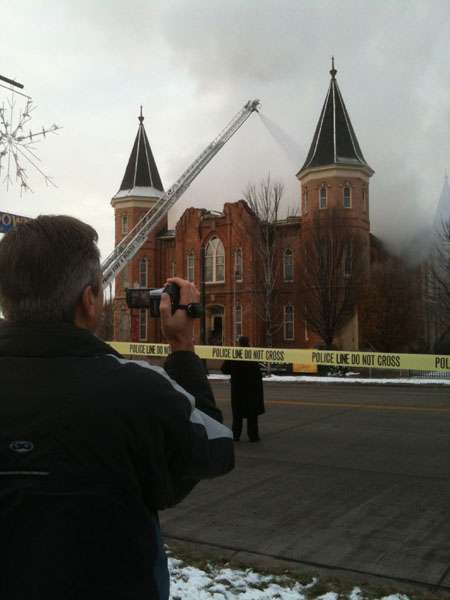 Fire Battalion Chief Gary Jolley said crews had the fire contained but not controlled for most of the day. Early Friday evening, firefighters said it remained too dangerous for crews to go inside.

"We had a lot of smoke coming out of it, so the incident commander determined he wanted to keep people out of there because he didn't know how long it had been burning inside and he didn't know if the structure was safe to go in and to send crews into actually fight the fire inside there," Jolley said.

That decision to keep firefighters out may have saved lives; just after Jolley spoke with KSL around 6 a.m. the Tabernacle roof collapsed, creating a massive pile of burning rubble inside.

CLICK HERE to watch a video clip of the staircase collapsing and bursting through the door.

Status of the building unknown

Most of the brick facade on the lower portion of the building was still standing as of 9 a.m. as well as the pinnacles of the building, but many fear the historic structure will be a complete loss.

"We're all really devastated," said Provo Mayor John R. Curtis. "Everyone in Provo has significant memories of concerts, plays, church meetings. It's an extremely vital part of my community. It's really a fabric of the community."

Schofield said crews will not be able to determine the status of the building until they can get a look inside.

"We don't know for sure, but it's hard to imagine we haven't lost the building," said Curtis.

Schofield said he's meeting with structural engineers and city and church officials Saturday morning to determine what to do with the building going forward. A task force with the State Fire Marshal will also be involved in the investigation.

"As we dig through the debris, there are certain indicators that will help show us where the fire was most intense and burned the longest, and we will work from there," Schofield said.

The tabernacle is owned by The Church of Jesus Christ of Latter-day Saints. Church spokesman Scott Trotter issued a statement Friday morning calling the fire tragic. "The building not only serves our members and the community, but is a reminder of the pioneering spirit that built Utah. The damage appears severe and until we make a structural assessment we won't know whether this historic treasure will be able to be saved," the statement read.

**Guard alerts firefighters overnight**

Authorities say a security guard noticed the fire at 100 S. University Ave. and alerted them at 2:43 a.m. Schofield told KSL when firefighters arrived, heavy smoke was pouring from the upper levels. Crews considered an offensive approach but when they tried to enter the building they determined it wasn't safe. They fought it defensively from the outside from that time forward.

After the collapse firefighters continued to pour water on the roof, but it was difficult to get down to the areas of debris that smoldered into the afternoon. A column of heavy smoke continued to billow from the center of the building even hours later, and smoke has poured from every window and door in the building. Schofield said parts of some walls have come down.

No word yet on what caused the fire, but crews believe it may have started in the upper levels. No injuries are reported.

BYU crews were filming a concert inside the tabernacle Thursday night. One witness said she smelled something like a hot glue gun. "We just thought, 'OK maybe it's just TV crews and lights,'" she said.

Millions of dollars in electronic equipment used to produce and record the production also went up in flames.

------

Story written with information from Andrew Adams, Sam Penrod and the DMC News team.

×
Photos
Related links
Related stories
Most recent Utah stories