Estimated read time: 3-4 minutes
This archived news story is available only for your personal, non-commercial use. Information in the story may be outdated or superseded by additional information. Reading or replaying the story in its archived form does not constitute a republication of the story.
WASHINGTON -- Interior Secretary Ken Salazar on Wednesday unveiled what he described as a "smart from the start" renewable energy plan that includes two dozen solar energy zones in six states, including Utah.
Comments are being sought over the next 90 days on the draft solar environmental impact statement, which proposes two dozen zones suitable for large-scale solar development that would power as many as 1 million homes.
Related
"This provides a common sense and flexible framework" in the next step to develop a new energy portfolio for the region, Salazar said in a D.C.-based teleconference.
Under consideration in Utah are nearly 17,700 acres, including Iron County's Escalante Valley, Beaver County's Milford Flats South and west central Utah's Wah Wah Valley.
The plan contemplates 677,400 acres of Bureau of Land Management property that also includes Arizona, New Mexico, Colorado, Nevada and California with high solar potential and on public lands with the fewest environmental and resource conflicts.
Utah zones hub of renewable energy
Three of 24 proposed solar energy zones are in desert valleys near Milford and Cedar City. With a big and expanding wind farm as well as geo-thermal facilities, the Milford area is becoming Utah's hub for renewable energy.
"Those areas that have been identified are the sunniest, the most days of sun. So, yes, it's intuitive, a lot of sun means good for solar," said Kent Hoffman, deputy state director of the U.S. BLM.
Levi Belnap, a spokesman for the solar energy industry in Utah, welcomes the new designation. It means the BLM has screened those zones not only for the amount of sun, but to make sure they are level, close to existing or proposed power lines and free from environmental conflicts.
"If those questions are taken out of the picture, it makes it a lot more feasible for a company to come in and invest in Utah, which is good news for us: More jobs, more renewables in the state," he said.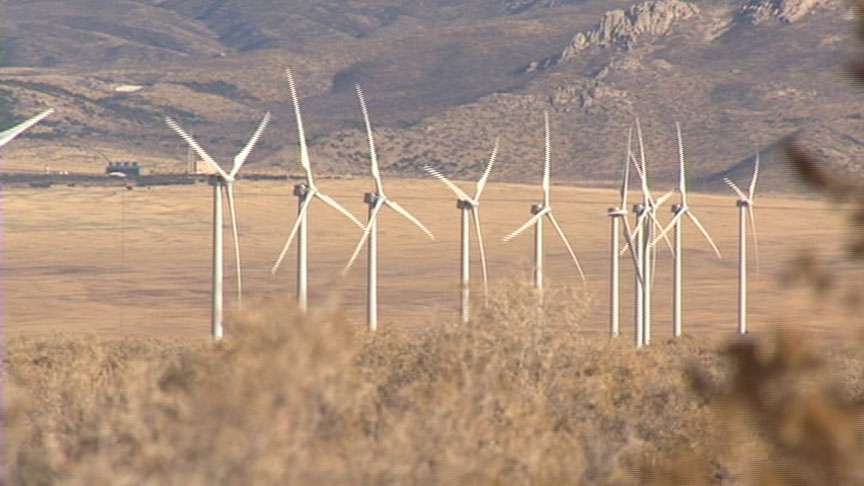 Industry interest neededSeveral years ago the BLM had three applications from companies that wanted to build solar farms in Utah, but all three withdrew for unknown reasons.
"But there has been interest," Hoffman said. "There's been renewed interest in moving forward in Utah with solar."
To facilitate industry interest, Salazar said the Interior Department will fast-track the permitting process and the U.S. Department of Energy will make millions available in tax credits and loan guarantees.
Belnap believes the Utah legislature hasn't done as much as other states to push utilities into wind and solar energy.
"Potential? Unlimited, right? We have resources that can match anyone in the country, but we don't have a binding renewable portfolio standard," he said.
That jargon means he wants the legislature to set mandatory targets for utilities, not just voluntary guidelines.
Public comment sought
In coming weeks, the BLM will hold 14 public hearings on the solar energy zones in six states, including Utah. A public comment period will be open until March 17, 2011. CLICK HERE for more information.
"We want feedback from the public on these renewable zones so we can incorporate local input," Salazar said.
The plan is scheduled to be released in final form in the fall of 2011. The first meeting will be held in Washington, D.C. on Feb. 2.
------
Story compiled with contributions from John Hollenhorst and Amy Joi O'Donoghue.
×
Related links
Related stories
Most recent Utah stories