Estimated read time: 2-3 minutes
This archived news story is available only for your personal, non-commercial use. Information in the story may be outdated or superseded by additional information. Reading or replaying the story in its archived form does not constitute a republication of the story.
Samantha Hayes ReportingThe Boy Scout Slogan is 'do a good turn daily.' One 12-year old scout from Farmington took that to heart with a good deed that saved a life, his grandmother's.
The other thing Boy Scouts are taught to do is be prepared. It was that first aid training Brian Beal fell back on. He knew what to do when his grandmother took a hard fall i their garage.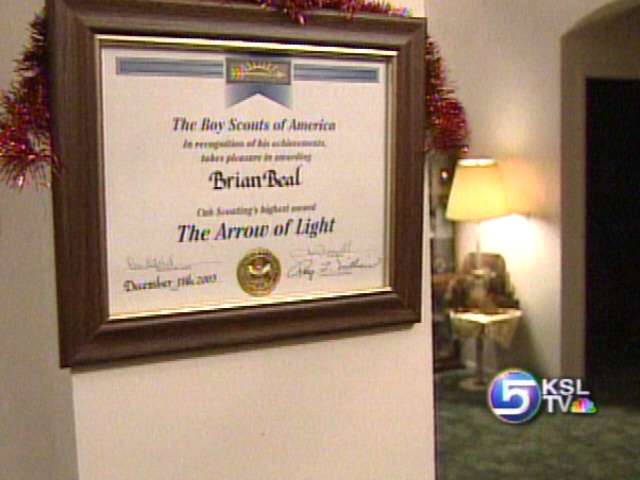 In the Beal household the rule is putting others first.
Kay Beal: "We told him the thing around here is you don't get your driver's license until you've got your Egle."
That was the message for Brian Beal's older brother. Brian took it to heart and has earned many honors and merit badges himself, including the gold cross. Brian earned that merit badge for completing a first aid course. He didn't think he would use what he learned so soon and so close to home.
Brian Beal: "I had to do something about it to stop it from bleeding."
Brian's grandmother was rearranging things in the garage to get Christmas decorations. She fell backwards and hit her head on concrete.
Brian Beal: "I said, 'Do you want me to call 9-1-1?' And she said, 'Wait a minute.'"
Brian's first aid training taught him to stay calm. He used mouthwash to reduce swelling, and called a neighbor for help.
Kay Beal: "He just kept asking me and telling me to call 9-1-1."
Brian Beal, Call to 9-1-1: "My Grandma, my mom, has fallen on her back and hit her head on the ground really hard."
Kay Beal: "He saved my life. I couldn't give up. And I had not idea how much blood I'd lost."
Brian Beal can tell you what all of his merit badges and certificates mean, and what it took to earn each one. But it's the quality of his character, his grandmother wears with pride.
Kay Beal: "He's been such a joy in our lives."
Kay Beal also suffers from Cerebral palsy. A cat-scan showed no serious damage, but she had to have stitches. For several days Brian has been at her side and working harder around the house to make sure everything is done.
×
Most recent Utah stories