Estimated read time: 2-3 minutes
This archived news story is available only for your personal, non-commercial use. Information in the story may be outdated or superseded by additional information. Reading or replaying the story in its archived form does not constitute a republication of the story.
John Hollenhorst reportingIf you think Hurricane Katrina victims had it bad, maybe you'll sympathize with an evacuee couple in Southern Utah.
Believe it or not, more than six months after floodwaters chased them from their home near Cedar City, the place is still flooded.
A big lawsuit is brewing and as many as 18 landowners claim the flooding was more or less intentional.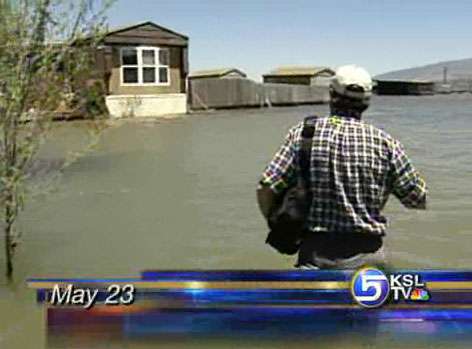 You may remember when we hiked through floodwater last May. Rising water surrounded the Wardlow's mobile home west of Cedar City.
When they complained publicly about not getting any help, Iron County officials organized a rescue effort for some of their possessions.
Six months later, Cathy Wardlow returned to a home flooded so long, sheets of ice are forming.
Cathy Wardlow, Iron County Evacuee: "Uhhhhh!! Well, the skirting's gone off the bottom. Looks like the second bedroom's caving into the water. "
Sheds and barns are history.
Cathy Wardlow, Iron County Evacuee: "And all the other buildings are disintegrated. They're all gone. All of them."
The Wardlow's 40-acres lost a battle with Lake Quichapa. It's a so-called ephemeral lake. It comes and goes with drought cycles. This year Quichapa came back, big-time.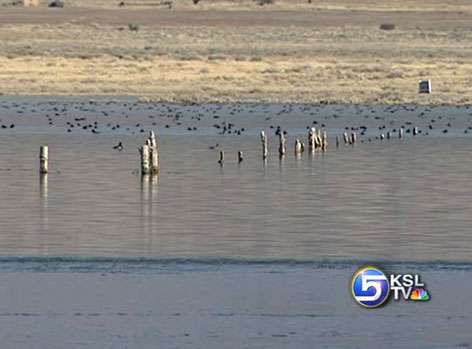 Cathy Wardlow, Iron County Evacuee: "When we boated out there, there's seagulls in the house! Breeding and living in the house." We came out in our neighbor's boat and went scuba diving to see if we could bring up anything from the bottom that might be salvageable."
Cathy Wardlow, Iron County Evacuee: "We found the fish that were in our tank. Actually swam up to my husband's mask."
About 18 property owners lost fences and outbuildings. They're threatening lawsuits against government officials for diverting spring runoff into Quichapa.
Cathy Wardlow, Iron County Evacuee: "Why didn't they come down here and warn us? Why leave us? We would have had time to get our things out."
On the advice of attorneys, city and county officials refused our request for interviews. But their position is this is not an act of man. It's an act of nature."
Spring runoff was an extraordinary 358 percent, more than three and a half times the usual. But Wardlow says public officials deliberately diverted water through a trench to avoid flooding 250 homes northwest of Cedar City.
Cathy Wardlow, Iron County Evacuee: "If it naturally flows this way, why'd they have to build a diversion station and change the water route?"
Meanwhile, foreclosure is looming and the Wardlow's credit rating is tumbling.
The Wardlow's sympathize, but their situation is worse than many residents of New Orleans. They probably can never rebuild and their property is essentially worthless, possibly forever.
×
Most recent Utah stories