Estimated read time: 2-3 minutes
This archived news story is available only for your personal, non-commercial use. Information in the story may be outdated or superseded by additional information. Reading or replaying the story in its archived form does not constitute a republication of the story.
Ed Yeates ReportingLight rail is about to jump track and take to the roads, well, sort of anyway. The Utah Transit Authority is giving local leaders a glimpse of a new prototype train bus that will fill in the gap where light rail can't go.
Imagine stepping off a light rail train on steel wheels and steel tracks, and step on this train bus with rubber wheels that can go anywhere. This prototype Bus Rapid Transit or BRT is quieter and more comfortable that a conventional bus. And with a hybrid-diesel electric engine, it offers fuel savings.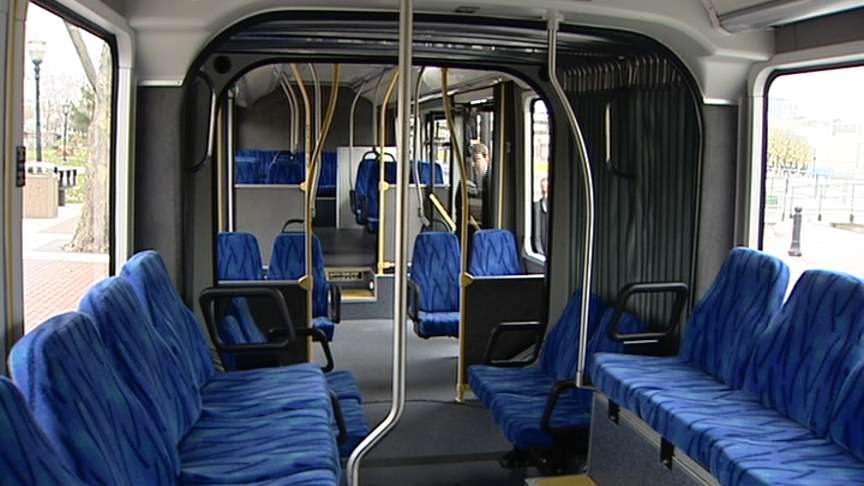 Ron Ingraham, North America Bus Industries: "There's an operator up in the Pacific Northwest that reports up to a 43 percent improvement in fuel mileage with this hybrid system versus a conventional diesel bus of the same size."
BRT's have doors on both sides, just like light rail, and can pull up level with a station platform, just like light rail.
Hal Ryan Johnson, BRT Engineering & Construction, UTA: "We would use it similar to the way we operate the light rail system where the train stops every one half mile to a mile, provides fast service, frequent service, but doesn't stop at every single intersection."
The plan, in Orem and Provo 15 to 20 BRT's would transfer between commuter rail stations, taking passengers on the road to express stops at Utah Valley State College, the mall, BYU's stadium and campus, and downtown Provo.
In Davis County another 15 to 20 would travel between Layton, Lagoon, Centerville, Bountiful, North Salt Lake and downtown Salt Lake.
Twelve to 15 BRT's would relay between a future light rail station at 2700 west, 3500 south and 8400 west in Magna.
Eventually, as new highways are built, BRT's could travel on their own exclusive lanes, keeping the same accurate schedule as light rail. UTA's Hal Johnson says the train bus concept is designed to serve an intermediate market that's not ready for light rail, but there's still more demand than a local bus can serve.
×
Most recent Utah stories