Estimated read time: 3-4 minutes
This archived news story is available only for your personal, non-commercial use. Information in the story may be outdated or superseded by additional information. Reading or replaying the story in its archived form does not constitute a republication of the story.
PROVO -- Aiona Butters didn't mince words when it came to describing how she feels when Nathan Gary Herbert looks at her.
"It just feels like he's raping me with his eyes," she said.
Butters testified against Gov. Gary Herbert's oldest son Friday in a hearing to challenge a stalking injunction Butters filed against Herbert earlier this year.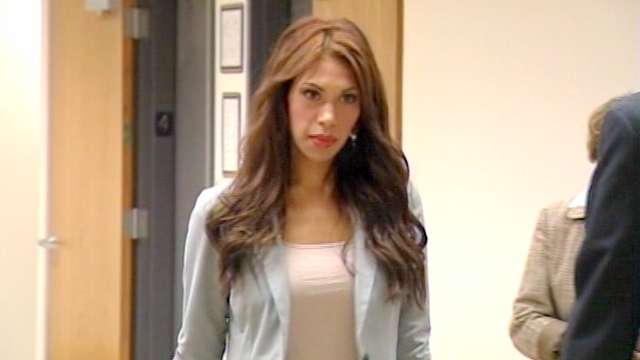 The civil case filed in Provo's 4th District Court on Aug. 10 alleges that Nathan Herbert, 40, had been following and harassing Butters.
In 2006, a stalking order was issued against Herbert involving Butters' older sister, whom he once dated. Since January, Butters has reported the incidents to police and in August sought the protective order.
On the stand Friday, Butters -- a 26-year-old, married Spanish Fork woman -- recounted as many as five different run-ins with Herbert who she said she has never even talked to. She said each encounter leaves her shaking and crying. She testified that he has circled her vehicle, both on foot and in his car on two separate occasions.
"I was mortified by the fact that this man had been circling my car that I had just gotten out of for minutes," she said. "I was, indeed, scared. Obviously I had children and was married. There's no reason this man should be circling my car. It is not normal behavior."
She called police most recently in August, saying Herbert had followed her into the gym. On a previous visit, she said bystanders later told her that he was staring at her and touching himself while she exercised.
"I tried to reason in my head that a person wouldn't be doing that in plain view of the public," she said. "I didn't go to the police. I tried to give him the benefit of the doubt."
One witness testified that Herbert went to the police station in Orem the day of the run-in at the gym, under the guise of settling an issue over a parking ticket. But Orem police officer Chad Black said he was called in to talk with Herbert, who told Black that he thought he saw the sister of a girl he had dated at the gym and felt "uneasy' because she and gym employees were looking at him.
Black said he gave Herbert a witness statement sheet to fill out, but that Herbert never turned it in. Butters testified that she did notify the police on other occasions, including a time she said she saw him standing behind her in line, smiling, at the Orem City Library in January and then followed her out of the building.
Defense attorney Scott Card repeatedly questioned Butters as to whether there could be other explanations for his client's conduct, saying, for instance, that Herbert could have been adjusting his athletic shorts when she thought he was touching himself at the gym.
"I absolutely hope so," Butters said in response to Card's suggestion.
Following Friday's hearing, Card told reporters "We will make those arguments (to defend Herbert) next Wednesday. You will have the opportunity to hear from Mr. Herbert next Wednesday."
Herbert's mother, Jeanette Herbert, who is also Utah's first lady, has been in the courtroom along with several other family members. Gov. Gary Herbert has previously said he believes the allegations against his son are without merit.
The two parties will return to court on Wednesday and make their final arguments to the judge, who will ultimately decide if the stalking injunction will be issued against Nathan Herbert. If so, he would be prohibited from being in close proximity to Butters for the next three years.
------
Story compiled with contributions from Emiley Morgan, Wendy Leonard, Sam Penrod and Randall Jeppesen.
×
Related stories
Most recent Utah stories