Estimated read time: 2-3 minutes
This archived news story is available only for your personal, non-commercial use. Information in the story may be outdated or superseded by additional information. Reading or replaying the story in its archived form does not constitute a republication of the story.
MURRAY -- Noel Gold of Murray admits he was a bit upset 44 years ago when his son, who was 12 years old at the time, lost his wedding ring. The boy was on his way to a Scouting event and needed something to hold his uniform neckerchief in place. Gold thought his wedding ring would do the job.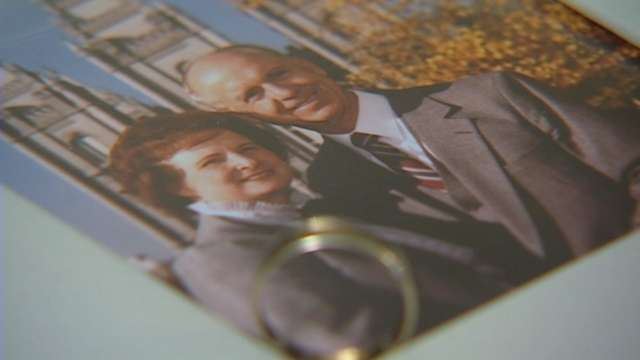 His son lost the ring inside of an LDS ward house where his Scout meeting was held. Gold's wife Mary Beth and son searched the church but didn't find the 14-karat band.
Mary Beth gave the ring to her husband on their wedding day in 1943, just before he was sent overseas to take part in the invasion of Normandy with the U.S. Army.
When he loaned the ring to his son, he'd been wearing it for more than 20 years.
The ring had apparently rolled into a floor heating vent at the ward house in Murray and was undetected for about six years.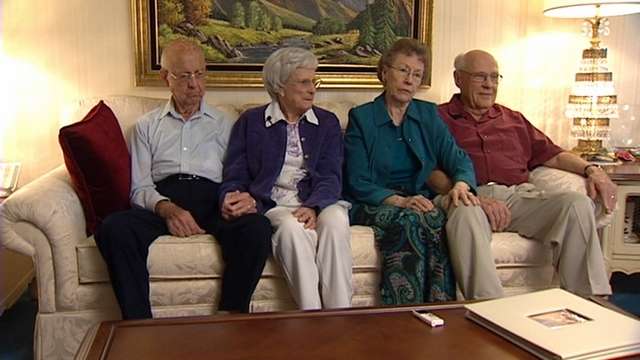 That's when the Gold's long-time friends of 37 years, Jay and Enid Thompson come into the picture. The two couples used to attend church at the same church, but when ward boundaries changed, the Golds went to another ward.
"I was made bishop in 1972," Jay Thompson said. "And this was probably the first social that we had at that time."
"We were standing in line to get a plate of food at this church social and I looked down and saw it and reached down and picked it up," Enid Thompson said.
She did her best to locate the owner of the ring. Engraved inside the band were the letters "N" and "M". Mrs. Thompson checked church rolls and phone lists with no luck. So the ring stayed in her jewelry box for nearly four decades.
Then, on Nov. 2 the Golds and the Thompsons just happened to run into each other at Cottonwood High School to vote in the 2010 election. And the mystery was solved.
"I walked in and stood in line, and you could see in the voting booths, and they were there", Enid says. "And that light just came on like that to ask them about the ring!"
Noel couldn't believe it.
"I was in a state of shock almost," he said.
The Golds never thought they'd see the ring again, but they never replaced it either. "It just didn't feel right," Noel said.
The Golds immediately called their son Richard, who now lives in California.
"He was amazed beyond belief", his mom says. "He had felt guilty all these years."
And so, after more than four decades, the ring is back on Noel Gold's finger where it belongs.
"It's feels good", he says.
Two days after the Gold's got the ring back, they celebrated their 67th wedding anniversary.
E-mail: kmccord@ksl.com
×
Photos
Most recent Utah stories