Estimated read time: 3-4 minutes
This archived news story is available only for your personal, non-commercial use. Information in the story may be outdated or superseded by additional information. Reading or replaying the story in its archived form does not constitute a republication of the story.
SALT LAKE CITY -- At no cost, a Utah surgeon is repairing and restoring the faces of women battered by an abusive spouse. The service, part of a program called Face to Face, is helping many of these victims heal physically and psychologically from long-term abusive relationships.
---
One in every four women will experience domestic violence in her lifetime. -NCADV
---
A Salt Lake woman, who we'll simply called "Brenda," was in an abusive relationship for eight years. The scars -- physically and emotionally -- have lingered.
"I tried to pretend that everything was OK," Brenda says, "but it was exhausting to pretend to everybody around me, and it just got old after a while. It got very old."
Brenda's bruises and contusions have long since healed, so have numerous trips to the hospital. She remembers one attack in particular.
"He would always pick me up by my neck and make sure that I was listening to him, you know?" Brenda recalls. "He had thrown me into the bathroom towards the bathtub, and I don't know how long I was out. When I woke up, my daughter was sitting next to me on the bathroom floor just crying."
---
Only approximately 1/4 of all physical assaults, 1/5 of all rapes, and 1/2 of all stalkings of females by partners are reported to police. -NCADV
---
During another beating, Brenda's nose was broken -- an injury that never went away.
"I got a bloody nose, two black eyes, and I figured it would go away -- and now, it's going away for good," she says.
Going away, as Brenda says, because University of Utah facial plastic surgeon Steven Mobley -- at no cost -- stepped in to repair a final scar.
As Mobley explains, "We are trying to get her nose to look smoother externally, not having a disfiguring dorsal hump. Internally, her septum, the main wall that divides the right and left nasal passages, is off center; so we'll bring this septum back into the center to make sure air is moving well through both sides of her nose."
---
An estimated 1.3 million women are victims of physical assault by an intimate partner each year. -NCADV
---
Pre-surgery computer renditions projected the subtle changes: the hump would disappear, the ridge of the nose would smooth out, and the tip would be slightly raised. Mobley even used a new tool that power sands the bone at a higher speed, producing a smoother finish.
Seventy-five percent of domestic violence injuries disfigure the face and neck. Under a sister charity of the American Academy of Facial Plastic Surgeons, these injuries can now be repaired without financially burdening the patients.
"It's the appreciation that even minor problems on your face really affect your self-esteem. They affect your ability to interact normally in society. I think that's our biggest thrust: to take away that stigmata," Mobley says.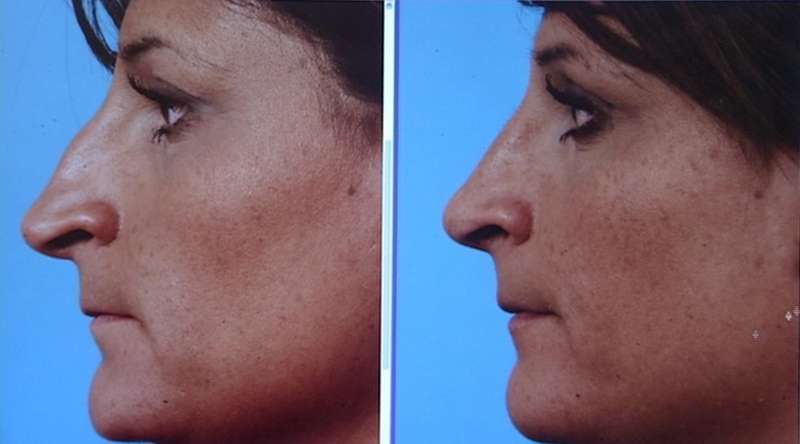 During a follow-up exam, Mobley looked at Brenda's face. He had her smile to see how the nose performed during facial movement.
"You have good width, and your tip is up a little bit," he told her. "I don't see the droop, even when you smile."
Before-and-after computer pictures look great. Brenda looked at both then gave Mobley a professional hug.
"It's going to be nice. It's going to be very nice," she said.
Nice, because the final physical scar of those eight years is gone; nice, because her kids and family surround her; and nice, because life now is just good.
Face to Face surgeons work closely with the National Coalition against Domestic Violence. Women wanting surgery must be out of a dangerous relationship and in a safe spot in their life.
As for Brenda, she's now just wanting to find a place of her own to live.
E-mail: eyeates@ksl.com
---
If you have information that you believe will improve the coverage of this story please submit your contributions to us using the form below. Please provide us with sufficient contact information that will allow us to verify submitted information.
×
Photos
Related links
Related stories
Most recent Utah stories