Estimated read time: 2-3 minutes
This archived news story is available only for your personal, non-commercial use. Information in the story may be outdated or superseded by additional information. Reading or replaying the story in its archived form does not constitute a republication of the story.
SALT LAKE CITY -- Police have arrested a man in connection with fires that damaged two LDS Church buildings in South Salt Lake.
Acting on a tip, South Salt Lake police officers and fire investigators tracked down 26-year-old Patrick Ehat of Salt Lake City around 2:30 a.m. Sunday. Police say Ehat admitted to starting fires that damaged both church buildings, but investigators are still trying to determine the motive.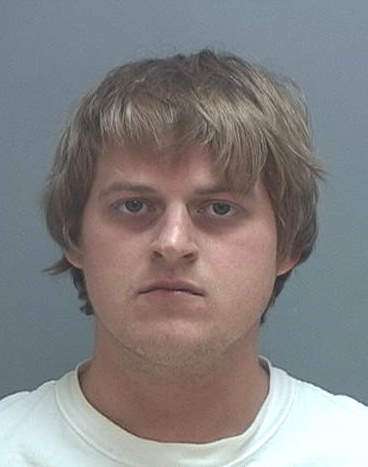 "Police interviewed the suspect," said Sgt. Gary Keller with South Salt Lake police. "He did admit responsibility for the fires. He also had some injuries consistent with entering or exiting through a broken window."
Police say they are confident Ehat acted alone. He was booked into the Salt Lake County Jail on felony arson, criminal mischief and burglary charges.
Bishops of the Miller and Granite wards say they don't know Ehat. A former friend told KSL Ehat was a member of The Church of Jesus Christ of Latter-day Saints and attended BYU.
Sunday, Ehat's parents issued a written statement which reads in part, "We love our son Patrick. Because he has limited his contact with us in recent months we are unable to speculate about motive."
The first fire was reported around 3:30 a.m. Saturday at an LDS meetinghouse at 3219 S. 300 East. About 30 firefighters responded to the two-alarm fire.
Officials with the Church's facilities department were on scene Sunday assessing damages. They have not reached an official estimate, but others have guessed anywhere from $400,000 to $1 million.
The second fire was reported at 6:48 a.m. Saturday at an LDS church building at 2702 S. Main Street.
Members of the Miller ward found a warm welcome from fellow Church members at another meetinghouse Sunday. They attended services at a chapel near 3500 South and 1300 East.
"We feel bad that their church burned down, but we have plenty of room for them here," said member Cynthia Olson.
Those who lost their building were overcome by the support. "Different building, but the people are the same," said Miller ward member Dave Simister. "The spirit is the same."
Ward members say the crime brought them closer together, along with other wards that helped out.
"I've always been taught that reacting to evil is making them the winner and that seems to be just exactly the opposite of what's happened here," said Aaron Bushman, a member of the High Council in the Miller ward.
In addition to the two churches, a vacant house was also set on fire Saturday. So far, investigators have not been able to connect Ehat with the house fire, but the investigation continues.
E-mail: hollenhorst@ksl.com
×
Related stories
Most recent Utah stories