Estimated read time: 2-3 minutes
This archived news story is available only for your personal, non-commercial use. Information in the story may be outdated or superseded by additional information. Reading or replaying the story in its archived form does not constitute a republication of the story.
Samantha Hayes reporting A man in is jail after picking the wrong house to burglarize.
Some homeowners rely on a security system to keep them safe. Others may have a watch dog. Jeffrey Poland takes care of things on his own.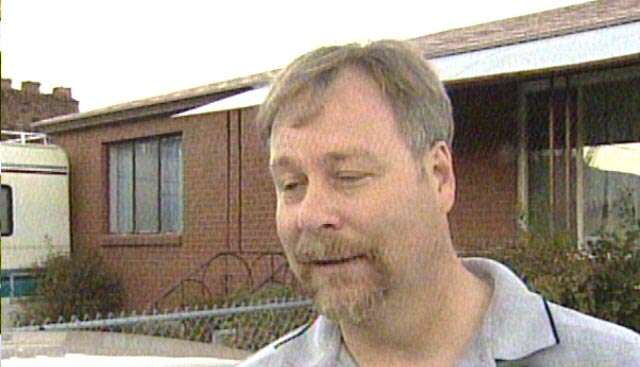 Jeffrey Poland, Stopped Burglar: "I had the gun at him..pointed right at him and i told him twice before he stopped."
Poland and his wife heard a noise upstairs around five o'clock Wednesday morning. He grabbed his gun, walked up the hallway and discovered the intruder.
Jeffrey Poland, Stopped Burglar: "He turned around and started running toward me. I told him to stop...told him I had a gun and that I would shoot him but he still kept coming toward me. I hollered at him again..'I got a gun..stop or I'll shoot you' finally, he stopped and looked at me and realized I had a gun and was serious."
Poland's wife was calling 9-1-1.
Dispatch: "Your husband is holding this person down?" Caller: "Well, he has a gun on him. and he's sitting in the front room on the floor."
Jeffrey Poland, Stopped Burglar: "My wife and kids were going through my mind and I knew I'd do whatever I needed to do to keep them safe."
Poland kept his head and held the gun at the intruder until sheriff's deputies arrived. But the situation overwhelmed his wife.
Jeffrey Poland, Stopped Burglar: "With all the commotion she got excited and passed out on the phone with 9-1-1."
Dispatch: What's going on there?......hello?
Deputies found keys to Poland's house and RV in the suspect's pockets, and the keys to a car he allegedly stole parked outside.
Poland believes his life would have been in jeopardy had he not had the gun.
"He was probably within 6 feet and I told him if you don't stop now I'm going to shoot you."
Poland suspects the man entered his home through an unlocked back door, and took the keys off his refrigerator.
The suspect is behind bars now. Deputies say he injected heroin sometime before the attempted burglary.
×
Most recent Utah stories