Estimated read time: 2-3 minutes
This archived news story is available only for your personal, non-commercial use. Information in the story may be outdated or superseded by additional information. Reading or replaying the story in its archived form does not constitute a republication of the story.
RIVERTON -- Two campaigns nearly collided in this Decision 2010. Both candidates share the same name, and when one of them tried to share campaign signs, it almost cost him the vote.
Meet candidate No. 1: Corbin White.
"I'm running for Jordan School Board District 2 Board of education," White says.
Now meet candidate No. 2: the other Corbin White. He was also campaigning, but for a homecoming date.
"I decided I would take advantage of the situation and do something memorable with the signs, you could say," the younger White says.
The teen "borrowed" the other Corbin White's signs and put them on his potential date's lawn to ask for her vote.
"I think it was three weeks after. I thought for sure I was in the clear," the younger White says.
"I was eating dinner one night," the elder White says. "I went to pay my bill, and I was told there was a young man who attended Riverton High and played football and he stole all my signs. And I said 'OK, can you give him my card?'"
Along the line, police got involved and brought the Corbin Whites together for a sort of caucus.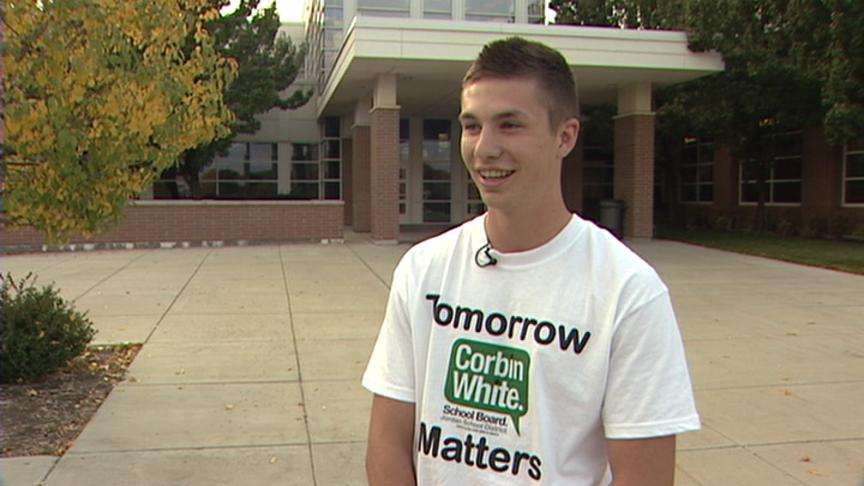 "We talked on the phone, on the speaker, and I said, 'Before we get too deep into this,' I said, 'why don't you tell me the most important thing: Did you get the date?' the elder White recalls. "And he said, 'Yeah, I got the date.' I said, 'OK.'"
That was almost as big a relief as the fact that she said yes.
"Yeah, I didn't realize how much the signs actually cost," the younger White said. "I was a little scared. I thought I was going to have to [pay for them]."
But since the elder White helped the younger White win a date, the younger White will now help the elder White win an election.
"He just has these little fliers, and I just go by and hang them on people's doors. It's as simple as that," the younger White says.
"He's an asset to the campaign because he's in 11th grade and can sprint like crazy," the elder White says. "He did a good job."
In the end, the Corbin White for School Board campaign got a new batch of signs. The Corbin White for Homecoming apparently has a follow up date, so all is well.
E-mail: dwimmer@ksl.com
×
Photos
Most recent Utah stories