This archived news story is available only for your personal, non-commercial use. Information in the story may be outdated or superseded by additional information. Reading or replaying the story in its archived form does not constitute a republication of the story.
ST. GEORGE -- One of the two teens struck by lightning in St. George is getting reacquainted with home after spending more than a week in a Las Vegas hospital.
Christopher "Dane" Zdunich, 16, is talking well, walking better and may even return to school as early as a week from now, twin-sister Kendle Zdunich told KSL Newsradio Wednesday.
She said, "He's pretty much back to normal now. He talks and he recognizes everybody."
His parents took him by Snow Canyon High School Wednesday afternoon, where he was greeted and cheered by the student body.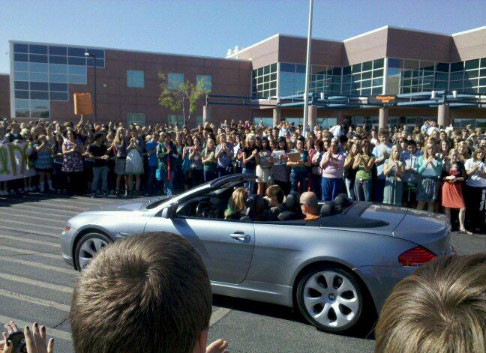 "I'm just really excited to have him home," Kendle Zdunich said.
Students at Snow Canyon say the tragedy has brought a lot of them together.
"Before, we were just a body of students," said Shannon Crockett, one of Zdunich's debate teammates, "and now we're unified and we've come together."
"It's really been good for the whole school to see him come back. We've all be really worried about him, and so it's good to finally see him," said Brandon Fuller, one of Zdunich's debate teammates.
Kendle says Dane was getting "tired" of his hospital room and was eager to get home. Dane's parents are trying to improve his strength and energy in hopes of helping him get back to school, she said.
During the school rally, Zdunich thanked all of them for coming out.
"Thank you for everything. I can't imagine getting through this without you guys," said Zdunich. "Thank you all for everything you've done."
Leslie Broderick, Zdunich's mother, says she was excited when doctors said her son was doing well enough to go home.
Beating the Odds
A Benefit Concert for Alex and Dane
Monday, October 18 at 7:00 p.m.
Tuacahn Amphitheatre
Tickets: $10
Box office: 435-652-3300
All seats are reserved
"The relief is like a ton of bricks off my shoulders," said Broderick. "When I think of the alternative, I can't even imagine, so I'm really, really grateful for all the prayers because I know that it had a lot to do with it."
Zdunich says he doesn't remember much about the lightning strike.
"We were outside waiting for a ride, and I remember it was raining. We were there under a tree, and I remember being miserable from the rain. In 20/20 hindsight, to be by a tall tree in a lightning storm may not be the best idea, but it happened," said Zdunich.
The other teen that was struck, Alex Lambson, 17, remains at University Medical Center in Las Vegas. His mom, Kaleen Talley, told reporters Tuesday at a news conference the teen still requires various skin graft surgeries and hasn't been able to move his left side.
Zdunich hopes they can go through the physical therapy together.
The teens were struck with lightning after classes on Oct. 5. The school is near St. George.
------
Story compiled with contributions from Alex Cabrero and Andrew Adams.
×
Related Links
Related Stories