Estimated read time: 2-3 minutes
This archived news story is available only for your personal, non-commercial use. Information in the story may be outdated or superseded by additional information. Reading or replaying the story in its archived form does not constitute a republication of the story.
OREM -- Orem police have busted two men in what's known as the "white van speaker scam." Detectives say it's a scheme of selling low-quality sound systems for a high price.
The men were spotted by an alert news viewer who saw a KSL News story about the scheme Monday. He called police when he saw someone selling stereo equipment out of a trunk Tuesday afternoon.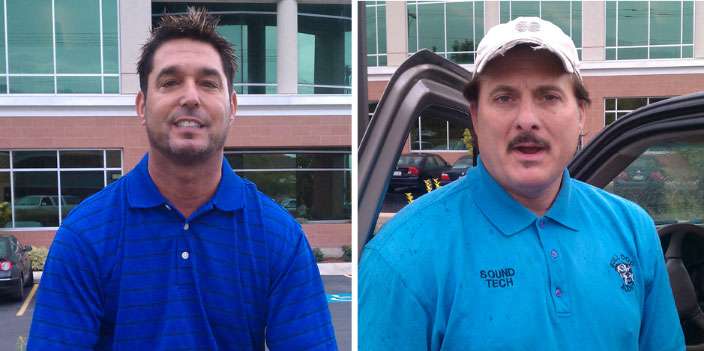 "Most people drive on by and don't think twice about it when they are not the victim," said Orem police Sgt. Craig Martinez. "But this gentleman was good enough to call in so other people wouldn't be victimized here in our community."
After receiving the call, officers responded to a parking lot near University Mall. When they got there, two men were selling stereo and electronic equipment out of the back of their SUV.
The men were using a sales pitch of selling some great merchandise at a low price and telling potential customers it's their lucky day. But buyers who fork out hundreds of dollars soon realize what they bought is not worth much at all.
"Once again, it shows they are worth $3,100 when, in actuality, if you do a little research you can probably purchase them on your own for less than $100," Martinez said. "So it's quite a misleading practice they have going on here, which is the reason they were cited for theft by deception."
Allan Marmer of Park City and Vernon Schock of Pennsylvania were also cited for doing business without a license.
A remorseful buyer KSL News spoke to Monday confirmed one of the men detained by police Tuesday sold him a surround system Friday night.
Police warn people that buying in a parking lot is problematic for many reasons, especially because there is no one to return the merchandise to if it doesn't work as advertised.
Marmer and Shock will have to appear in justice court on the misdemeanor citations. In the meantime, police warn the men are still out there so potential buyers of stereo equipment should beware.
E-mail: spenrod@ksl.com
×
Related stories
Most recent Utah stories