Estimated read time: 3-4 minutes
This archived news story is available only for your personal, non-commercial use. Information in the story may be outdated or superseded by additional information. Reading or replaying the story in its archived form does not constitute a republication of the story.
HERRIMAN -- In recent days, a dispute flared up between some contractors and the Utah National Guard over cleanup of the Herriman fire. The companies say they're being unfairly portrayed as dishonest price-gougers when all they're doing is following a nationally-accepted system.
This dispute reflects a cleanup effort involving two kinds of companies: those that jumped into the fire cleanup business two weeks ago and certified restoration companies with years of experience cleaning up after disasters.
Related:
The National Guard eagerly paid cash for claims the first few days; but when prices for cleaning and restoration started going up, the Guard chose the first three days as a baseline of fair prices.
"By following that baseline, we're not only able to compensate the homeowner appropriately, according to what the local standard is, but we're also safeguarding the taxpayer's dollar," says Col. Hank McIntire, spokesman for the Utah National Guard.
David Mefford is a certified restoration contractor with the Utah Flood and Fire Network. He says Herriman's neighborhoods filled up those first few days with inexperienced companies.
"Carpet cleaners, duct cleaners, unemployed contractors who were trying to make money," Mefford listed, "and they grabbed people they knew -- their wife and their sister, people in their ward -- to come in and clean the houses."
He says certified restorers' prices tend to be higher because they know what has to be done to get out the smoke and ash.
"If you do it wrong, you can embed it in there. You'll not remove it," Mefford says. "Everybody will think you did a good job, but the smell or odor -- cleanliness won't be there."
To estimate the cost of a job, most certified restorers use software produced by Xactware in Orem. The system is used for 80 percent of such claims in the United States.
To begin, the contractor enters home measurements into the device.
"So if you're cleaning or replacing baseboard or crown molding, it automatically knows the measurements of those," explains Mike Fulton, assistant vice president of Xactware.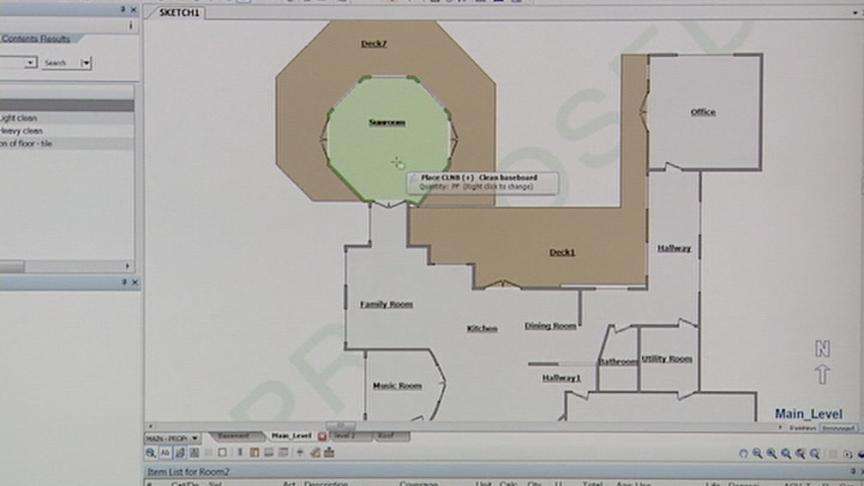 The contractor then chooses from 13,000 cleanup and repair tasks and drops it into a room.
"You can see that it's creating a total for the estimate as I go," Fulton says.
The suggested fair prices are tailored for each local market by Xactware, based on their review of 10,000 claims a day.
"We hope that it's a fair price, because it's the mid-point of the market," Fulton says.
Xactware's system is accepted by insurance companies but not by the National Guard.
"The baseline that we've established is in accordance with the cost of living here in Utah, rather than taking into account what is being paid in Florida or California," McIntire says.
"We've decided that we're not going to take on any new jobs out there unless they're being paid for by the insurance company," Mefford says.
The cleaning companies insist their prices are based on local standards because Xactware tailors its published prices to 437 local markets. Still, McIntire says the National Guard determined its own baseline of fairness and is sticking with it.
E-mail: jhollenhorst@ksl.com
×
Related links
Related stories
Most recent Utah stories