Estimated read time: 2-3 minutes
This archived news story is available only for your personal, non-commercial use. Information in the story may be outdated or superseded by additional information. Reading or replaying the story in its archived form does not constitute a republication of the story.
Amanda Butterfield ReportingDespite declining enrollment and a tight budget, no schools in the Granite School District will close. Instead, three new ones will be built. And that may cause even more money worries for the district.
To the delight of many parents, teachers, and students, the Granite Board of Education did not take the recommendation to shut down three schools to save over 3 million dollars. Though most of the community may be happy about the decision, it could hurt the students in the long run.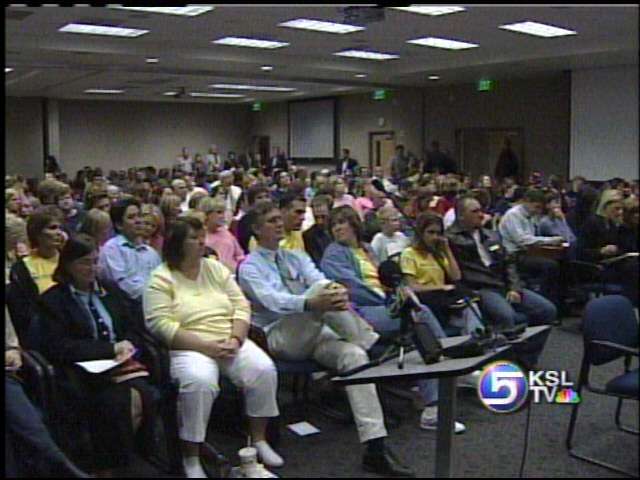 It was a good day to be at Granite High School. Though some couldn't get their lockers open, they don't have to worry any more about their school staying open.
Aleshia Ogden, Student:" I went to my first period and all the kids were like, 'they're keeping it open,' and giving hugs and stuff."
It was the same kind of excitement at Hill View Elementary, and students of Wasatch Jr. High can rest assured their school will be rebuilt.
Patricia Sandstrom, president of the Board, says she thinks they made the right decisions. Not only was it decided the schools would stay open, but three more would be built on the west side of State Street in the coming years. So in an already cash strapped district, how's it going to be paid for?
Patricia Sandstrom, Board of Edu.: "We haven't talked about it, but I think we might do bonding. People told us, 'Support us with the bonds.'"
Randy Ripplinger, Granite School District: "We need extra leg. Dollars."
The spokesperson for the district is hoping for help
Randy Ripplinger: "This is going to come down to the legislature standing behind the district keeping neighborhood schools. That's what the citizens asked for and that's what the board did."
He's hoping the board's decision won't mean more programs or faculty benefits be cut.
Randy Ripplinger: "We really would like to avoid doing that again."
Today, the only thought on students minds was victory.
"There's a great attitude at Granite that I haven't heard of any of the other schools having."
And for at least the next five to ten years, that century old attitude is safe.
The board also voted to adjust some boundaries to ensure that students who go to elementary school together will go to the same junior high, and then onto the same high school.
These changes will be made final the end of the month.
×
Most recent Utah stories