Estimated read time: 2-3 minutes
This archived news story is available only for your personal, non-commercial use. Information in the story may be outdated or superseded by additional information. Reading or replaying the story in its archived form does not constitute a republication of the story.
Alex Cabrero ReportingWest Valley police are still looking for the teen charged with first-degree murder. 15-year old Angel Ortiz is the suspect in the fatal stabbing of another man late last month.
One thing is for sure, everyone involved wishes Ortiz would've met Ernesto "Kiko" Cornejo earlier in his life. Maybe then he wouldn't in so much trouble.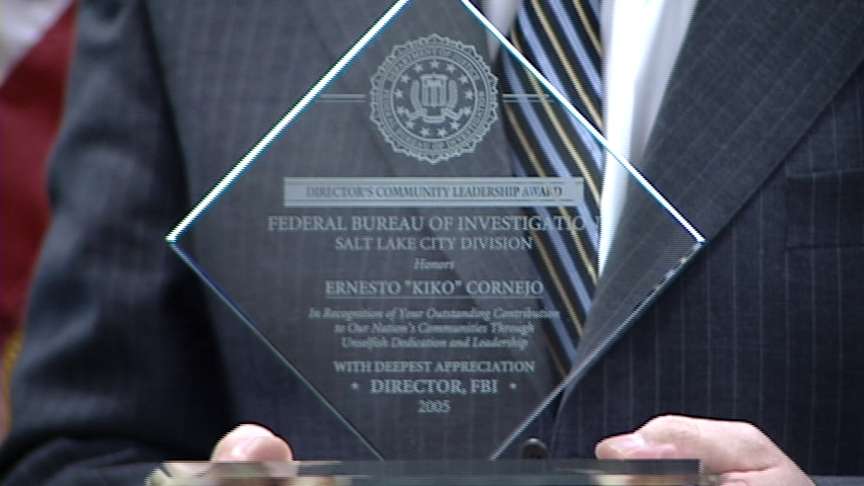 Kiko specializes in troubled teens like Ortiz. He also helps Spanish-speaking citizens new to our country understand our laws and practices. He never did this for any attention, but this morning, that's exactly what he got.
Timothy Fuhrman: "He has been a true leader."
Of all the things you can say about Ernesto Kiko Cornejo...
Timothy Fuhrman: "It is our pleasure to present the award this morning to Kiko."
...total and complete shock best describes him today.
Ernesto Cornejo: "What a surprise!"
Cornejo received the FBI Director's Community Leadership award.
Timothy Fuhrman, FBI: "It's the only one we give in the FBI to members of the community."
He was recognized for his work the past 20 years, helping those new to the American Dream.
Kiko Cornejo: "It's different coming to another country, especially when you don't speak the language."
Ernesto "Kiko" Cornejo, FBI Award Recipient: "They have to face many problems a lot of times, simply because they don't know the rules."
When Kiko moved here from Chile, he didn't know about a speed limit or wearing a seatbelt, the little things that over time could get you in big trouble.
Kiko Cornejo: "I don't want my community to go through the same problems."
So he decided to teach Hispanic immigrants the American way, but in doing so, found out there's more than just basic laws. Now he helps teach about gang violence, domestic violence, drug abuse-- the kinds of things the rest of us already know are wrong.
Timothy Fuhrman: "I think we all recognize it's not just an effort by law enforcement. It has to be an effort by the entire community."
Kiko Cornejo: "I love it. I love it and I'll keep doing it. I get up every morning happy of what I'm doing."
Kiko is also getting ready for his big Christmas event, where he delivers lots of toys to children who could use a smile.
×
Most recent Utah stories