Estimated read time: 3-4 minutes
This archived news story is available only for your personal, non-commercial use. Information in the story may be outdated or superseded by additional information. Reading or replaying the story in its archived form does not constitute a republication of the story.
SALT LAKE CITY -- Stores across the country and in Utah are pulling cases of powdered infant formula from the shelves after drugmaker Abbott Laboratories announced millions of containers of its best-selling Similac formula may contain insect parts.
Abbott issued the recall of nearly 5 million containers Wednesday after it discovered beetles, beetle parts and larvae at a manufacturing plant in Michigan. The announcement is not sitting well with consumers or stores.
---
Anyone who has ever been a mom or dad knows that is not a good thing.
–Charla Hayley
---
Bill Cairo is the night service manager for the Smith's Food & Drug on 500 East in Salt Lake City. "Anything in the plastic bottles, we pulled them," he says. "We instantly come down, pull the product, count it."
Cairo says shoppers who purchased recalled formula from Smith's can bring it back for a refund or exchange.
Lorie Gardine is a mother of two and used the formula when her 2-year-old daughter was younger, but the recall still concerns her.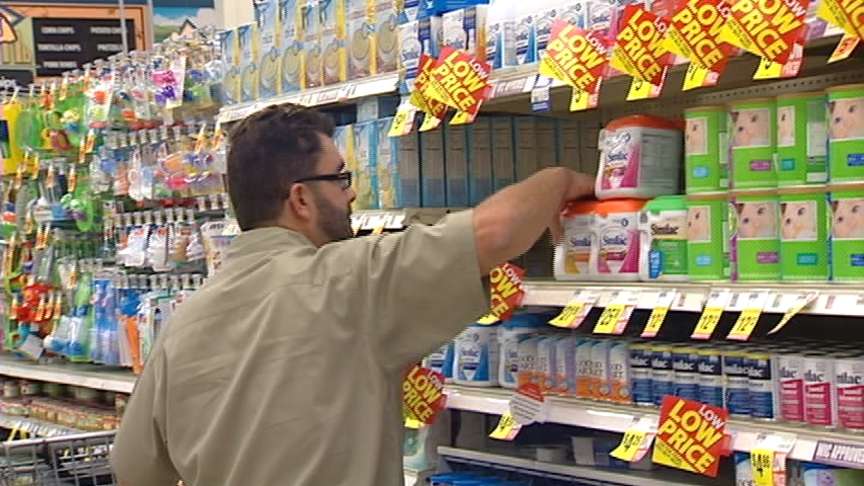 "I just think it's scary, the unknown. So I think I'll just go the more natural way and know exactly what my kids are getting," she says. "I don't think with any of my kids I'll ever use formula."
Gardine is just one of millions of parents alarmed by the recall. Many now wonder what to do with the recalled formula.
The affected products were sold in plastic containers and various can sizes, including 8-ounce (227-gram), 12.4-ounce (352-gram) and 12.9-ounce (366-gram). The company says the contaminated formula could cause stomach aches and digestive problems in babies.
---
Consumer hotline: 800-986-8850
---
The Food and Drug Administration has determined there is no "immediate health risk" from the contamination, but children experiencing symptoms for more than several days should see a doctor.
"Anyone who has ever been a mom or dad knows that is not a good thing," says Charla Hayley with the Utah Department of Health.
Utah's WIC programs use a lot of Similac products. Hayley says the health department has been flooded with phone calls from WIC clinics wondering how to help clients.
Related:
"Because of the way WIC buys the product, the client cannot take that back to the store," says Hayley. "They'll need to take it back to the clinic on their end."
The voluntary recall affects Similac-brand powder formulas sold in the U.S., Puerto Rico, Guam and some Caribbean countries. It does not affect any liquid formulas or Abbott-brand products.
Consumers can enter the lot number on their containers online to determine if they are subject to the recall. The products should be returned to Abbott for a full refund.
[CLICK HERE] to find out if formula you have at home is included in the recall. Consumers may have trouble with the website, which has been flooded with hits.
Those looking for information also call a help hotline at 800-986-8850.
To find your nearest WIC clinic, [CLICK HERE].
------
Story compiled with contributions from Anne Forester and Randall Jeppesen.
×
Related links
Related stories
Most recent Utah stories