Estimated read time: 2-3 minutes
This archived news story is available only for your personal, non-commercial use. Information in the story may be outdated or superseded by additional information. Reading or replaying the story in its archived form does not constitute a republication of the story.
MOAB -- Some seasonal workers in Moab live in unique types of homes: buses. They say living that way is a choice, and many have lived in buses for years, but the Grand County Council wants them to park somewhere else.
Many of these workers just don't make that much money. For them, this allows them to live a simple and cheap lifestyle.
The Grand County Council says it's OK how they live -- it's where they live that's the problem.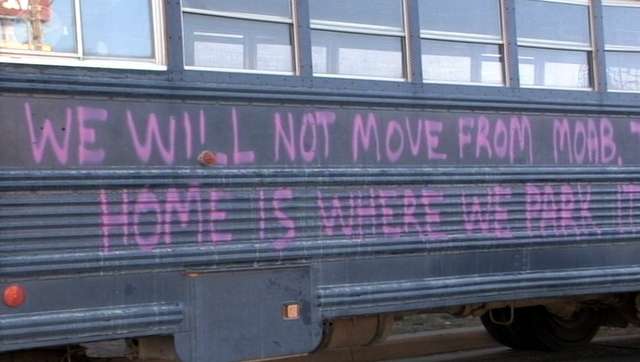 "I don't want to live in a house," said Dre Carman, who has lived in a bus next to the river for nearly 10 years. "Before I did this style of living, I lived in caves and camps for eight years of my life. I like to be with the earth, and it makes me feel comfortable."
Carman doesn't want to leave. He and others like David Campbell work in Moab during the city's tourist season, working six months out of the year. Campbell drives shuttles for a local river company, but the pay isn't what he'd like it to be.
"It's pretty hard to afford rent in Moab," Campbell said. "It's been nice to find a place where we're down by the river. I can walk down to the river and put my boat on anytime."
Their simple lifestyle is what works for them -- but not everyone has such a positive view.
The Grand County Council says these workers are breaking the law.
"Against our codes and it's an infraction, and they have been notified to move," said Gene Ciarus of the Council.
"They are in an area that is not zoned for what they are doing there, which is living in the campers," said Audrey Graham, the Grand County Council chair. "It is a flood plain."
The Council says it does not have a problem with the choice to live in a different type of home, just as long as people follow zoning laws.
A group of people showed up at the last County Council meeting in protest, saying people should be free to live where they want.
"We have a right to live and not have to spend 90 percent of our time working for that place," said protester Aaron Lindberg.
Graham says at that meeting, members passed a zone change for 60 units of affordable housing. It will provide another option for those struggling to make ends meet, but some will still choose to live in alternative housing.
"There are places where they can do things like that where they can camp out full time, but it needs to be within the rules," Graham said.
Construction for the affordable housing unit is planned for this winter.
Those who spoke to KSL say they have to move by the end of the month, with many unsure where they will go.
E-Mail: aforester@ksl.com
×
Photos
Most recent Utah stories