Estimated read time: 2-3 minutes
This archived news story is available only for your personal, non-commercial use. Information in the story may be outdated or superseded by additional information. Reading or replaying the story in its archived form does not constitute a republication of the story.
John Hollenhorst ReportingGet ready for the Salt Lake Valley's newest recreation resource. This vast construction project will soon become a man-made lake that will provide miles of shoreline. And the water has already started pouring in.
Oquirrh Lake will be the biggest man-made lake in the Salt Lake Valley and it's part of the most ambitious real-estate development in Utah history.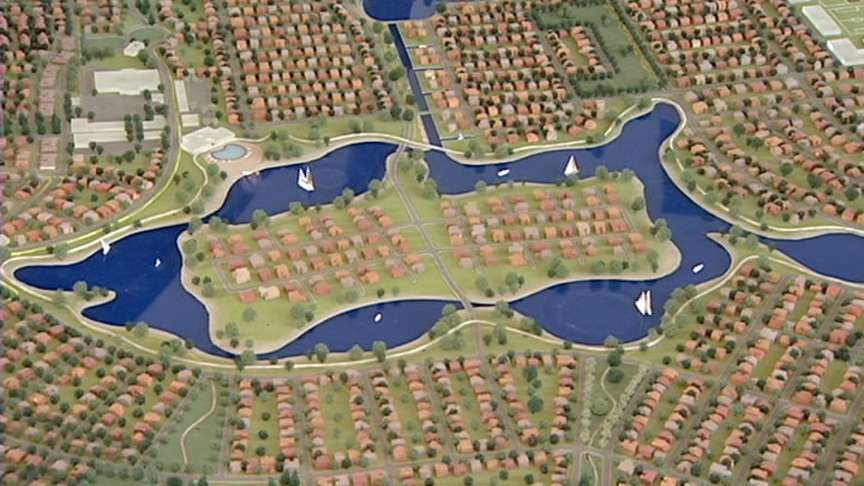 Try to imagine this area with sails in the sunset, picnicking on the shore, canoeists paddling around a huge island. That vision of Kennecott's Daybreak developers should be a reality by next summer.
Freshwater is gushing in at about 800 gallons a minute. A launch ramp is in place. A marina is under construction with heavy anchors ready to go. At least four massive bridges will take cars and pedestrians across the water. Pretty soon, hundreds of homes and empty lots, will have a view that might change lives.
Jana Kettering, Kennecott Land: "That will draw people out of their homes into the community to interact and enjoy each other's company."
To get the big picture, take a look at Kennecott's three-dimensional model. The huge Daybreak development will eventually have more than 13,000 homes spreading over eight square miles. And the centerpiece is Oquirrh Lake. Surrounded by park-like open space, it will have a big island with 160 houses and about 5 miles of shoreline.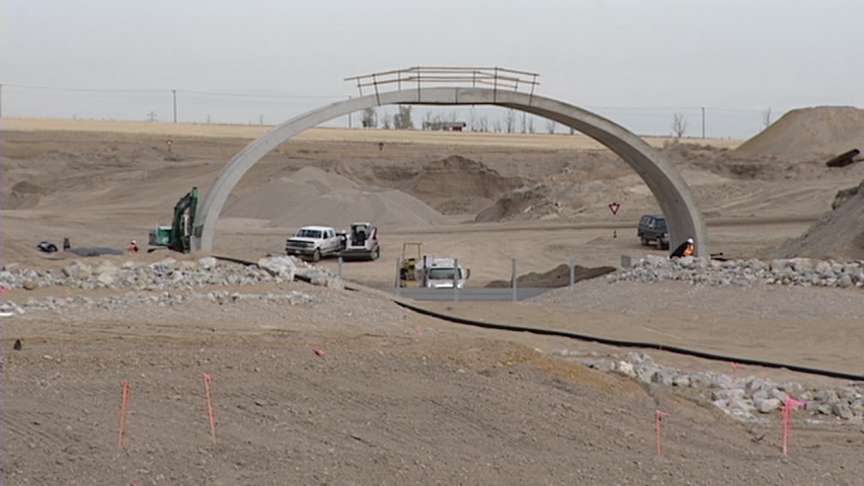 Greg Rasmussen, Kennecott Director of Land Development: "It will vary from wetlands to sandy beaches to grassy play areas to rocky shorelines that you can fish off of."
All of the bridges will have 26-foot clearance. That will allow pretty big sailboats to take a three-mile trip, all the way around the island. Swimming will not be allowed, but dozens of non-motorized boats are expected.
The lake will be filled with undrinkable canal water, but filters and aerators are supposed to keep it fresh and clear.
Jana Kettering: "So that you'll be able to see down about four feet from your sailboat."
The lake will be eight feet deep. Underneath, it's lined with a thick layer of polyethylene, sandwiched between layers of soil, silt and clay.
Greg Rasmussen: "All the soil that's underneath this lake is straight gravel from the old Bonneville shoreline. So we had to line it carefully to make sure it was sealed, otherwise the water would just go in the ground."
And you don't have to live there to play there. Kennecott expects to keep it open to outsiders. Phase One, about a third of the lake, should be full by next spring. Other sections will be filled in a few years.
×
Related links
Most recent Utah stories