Estimated read time: 2-3 minutes
This archived news story is available only for your personal, non-commercial use. Information in the story may be outdated or superseded by additional information. Reading or replaying the story in its archived form does not constitute a republication of the story.
John Hollenhorst Reporting"We're talking about somebody that has unlimited resources, many, many vehicles, and thousands of people that are willing to help him and hide him."
There have been NO arrests and NO more sightings of fugitive polygamist leader Warren Jeffs. That follows several possible weekend sightings in Northern Utah. But investigators say they believe Jeffs frequently comes to the area, exposing himself to possible arrest for one compelling reason, to perform plural marriages.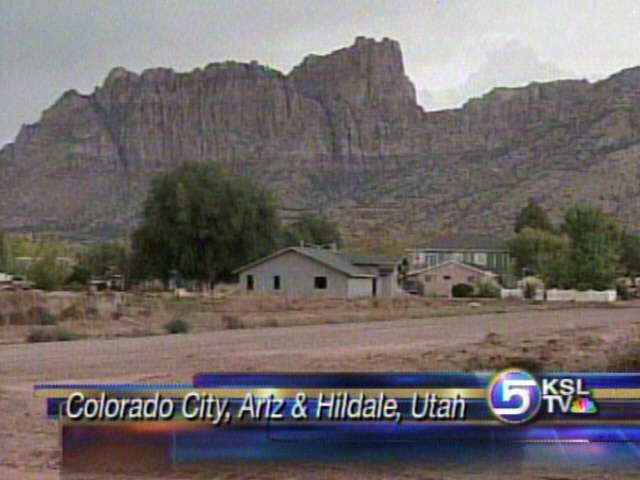 Authorities questioned several residents in Jeffs polygamist community. They think they know which of Jeffs followers were present at the Northern Utah sightings, but it's not clear that Warren Jeffs was with them.
In Colorado City, vehicles were found matching those seen in Lehi at Cabela's. They're registered to people close to Warren Jeffs.
It's believed that Jeffs' brother went with others into Cabela's outdoor store in a wheelchair. They later bought fishing licenses at Strawberry Reservoir. Gary Engles is the investigator who found the cars in Colorado City. He says it's possible but unlikely Warren Jeffs was waiting outside at Cabela's.
Gary Engels, Mohave County, Ariz. Investigator: "I don't think that he was probably there at the Cabela's. But it probably still needs to be looked at and everything investigated."
Whether or not Warren Jeffs was actually on a fishing trip in northern Utah, investigators believe he often is in or around his home base, right here on the Utah-Arizona border.
Engles recalls one recent occasion when he suspected Jeffs was in town.
Gary Engels: "Large gathering of the people, and there was an awful lot of security there."
And another time when local paranoia was unusually high in the polygamist community.
Gary Engels: "The people were really following us around, trying to box us in, trying to force us off the road."
Private investigator Sam Brower says Jeffs repeatedly returns to the area because he needs to perform marriages.
Sam Brower, Private Investigator: "I don't think he'll ever give up that power to arrange and perform marriages."
Brower says his sources indicate Jeffs performs marriages every couple of weeks, sometimes in secret locations where the bride and groom are taken under elaborate security precautions.
Sam Brower, Private Investigator: "They'll usher them off to another point and then somebody else will pick them up there, and somebody else will take them to another point. So, it's like a relay, so nobody knows the exact point where the other person's going."
Because Jeffs seems so willing to expose himself, it would seem he'd be relatively easy to arrest. Private- Eye Brower says what's needed is a focused effort by an interagency task force committed to finding him.
×
Most recent Utah stories