This archived news story is available only for your personal, non-commercial use. Information in the story may be outdated or superseded by additional information. Reading or replaying the story in its archived form does not constitute a republication of the story.
LEHI -- Five Westlake High School football players were arrested Sunday after police say they were spotted vandalizing their rival's football field.
Right now, the Westlake football team is just trying to move on. Their coach says the incident was a lapse in judgment but wants the community to know that they are still good kids.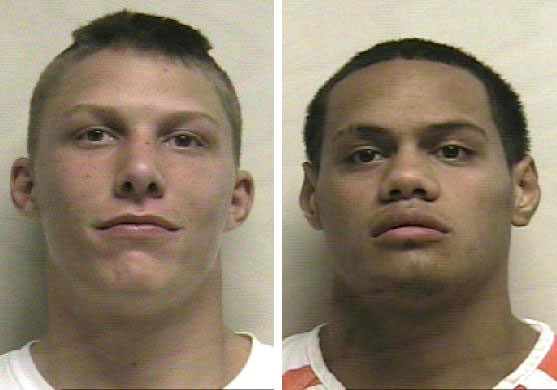 Lehi police Lt. Darren Paul says an officer spotted two of the five athletes running across the Lehi High School football field Sunday, and he commanded them to stop. One complied and the other took off -- but he and three others were soon picked up by police.
Two of the suspects are at least 18 years old, and the other three are juveniles. The Alpine School District has confirmed all are current members of the Westlake football team. One is a transfer student from Lehi High School, while the others attend the Rockwell Charter High School in Eagle Mountain but play on the Westlake team.
Paul says the five were arrested on felony graffiti charges because of the extensive damage the vandalism -- which consisted of vulgar phrases and pictures -- caused to walls, a sidewalk, portable bathrooms and on the football field.
"A healthy fun rivalry is a great thing," said Alpine School District spokeswoman Rhonda Bromley, "but obviously when it crosses the line and becomes inappropriate or illegal, then there needs to be some consequences."
District administrators say all the graffiti has been painted over, but they're going to have to keep a close eye on the football field. It's possible the spray paint on the synthetic turf might start showing through the repainted surface.
---
A healthy fun rivalry is a great thing, but obviously when it crosses the line and becomes inappropriate or illegal, then there needs to be some consequences.
–Rhonda Bromley, Alpine School District
---
If that happens, the district will have to bring in a company from out of state to replace a large section of the field, which would cost thousands of dollars.
"I was just really disappointed in our boys," Westlake football Coach Jason Walker said. "They're good kids. All the kids involved are really good kids. I know them really well -- just poor judgment on their part."
Walker says his players' punishment is appropriate: a three-game suspension and community service, plus whatever legal consequences lie ahead.
Westlake High recently split from Lehi, so there's definitely a rivalry, but most people say vandalism is going too far.
"Yeah we want to have bragging rights, but do we want to get malicious about the things we do? Absolutely not," Walker says.
Principals from both schools have been working together to resolve the situation.
At the end of practice Tuesday, the Westlake football team took a time out to acknowledge what had happened. The starting center, and alleged vandal, apologized.
"I want to apologize to you guys for making a bad mistake," Garret Grovsner Bolles said.
-----
Story compiled with contributions from Randall Jeppesen and Nicole Gonzales.
×