Estimated read time: 2-3 minutes
This archived news story is available only for your personal, non-commercial use. Information in the story may be outdated or superseded by additional information. Reading or replaying the story in its archived form does not constitute a republication of the story.
Alex Cabrero reportingBrent Robbins, Special Agent, Federal Bureau of Investigation: "We're continuing our efforts and conducting additional interviews in an attempt to locate mr. Jeffs."
Warren Jeffs, the wanted leader of the Fundamentalist LDS church, has always been on the run. Now, there's a chance he's hiding in Utah.
A lot of people were shopping at the Cabela's store in Lehi last night, buying last minute supplies for today's hunt. But could one of those shoppers actually have been Warren Jeffs?
A lot of people who heard the story last night are still thinking: There's no way Warren Jeff's was in Cabela's.
How many Elvis in Burger King jokes have you heard? But, the FBI isn't joking, and even after looking at store surveillance tape, they're still taking it seriously.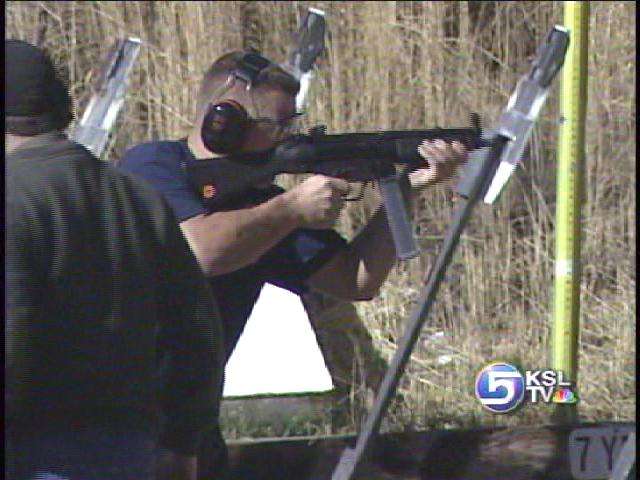 The FBI is always ready for taking people in who don't want to be taken. Today was just practice, part of an FBI citizens academy class.
But you never know, when the real situation might come up.
Brent Robbins, Special Agent, Federal Bureau of Investigation: "While we can't confirm it was Mr. Jeff's last night at the store, I'm hoping so because at least we'll know he's around and that gives us a better chance of finding him."
If a Cabela's cashier is right, he was found and almost caught.
Jeff's, who is wanted by the FBI on several charges including sexual conduct with a minor, might've been inside the store Friday afternoon.
Brent Robbins, Special Agent, Federal Bureau of Investigation: "The tape has been reviewed, and based on the review, we're going to be conducting some other types of investigations."
Jeff's is the leader of the FLDS church out of Southern Utah and Northern Arizona. His group built a temple in El Dorado, Texas this year, and Jeff's supposedly was hiding there.
So when a cashier in Lehi called police saying Jeff's was in Cabela's, it took a lot of people by surprise.
Jim Branin: "They just couldn't believe he was here."
Jim Branin was there when police arrived. But the man who looked like Jeff's, and the group of people he was with, had already left, maybe spooked by how long it was taking to process a credit card application.
Brent Robbins, Special Agent, Federal Bureau of Investigation: "There have been many cases that are basically... You scratch your head and say, Go figure."
Here are the descriptions of the cars the group left in: The first is a white GMC Yukon with Nevada license plate 253-SUS. The second, a black Ford truck with a cab,Utah license plate 344-VNS. Both of those vehicles have tinted windows.
×
Most recent Utah stories