Estimated read time: 3-4 minutes
This archived news story is available only for your personal, non-commercial use. Information in the story may be outdated or superseded by additional information. Reading or replaying the story in its archived form does not constitute a republication of the story.
COTTONWOOD HEIGHTS -- A traffic stop in Cottonwood Heights led to a standoff and the arrest of a competitive skier.
Former extreme skier Eugene "E.J." Poplawski is being questioned after police found a large amount of drugs in his home following what would have been a routine traffic stop, had he not run from police.
Police ended up at Poplawski's home after they tried to pull over his truck for speeding and driving recklessly near 1900 East and Fort Union Blvd. around 2 a.m. Friday.
"It's unfortunate that he would run from us," said Cottonwood Heights Detective Beau Babka. "It was a simple traffic stop and the whole thing that started the domino effect."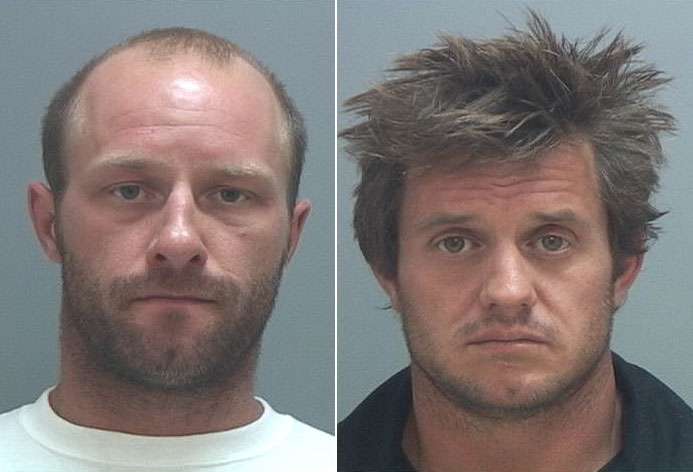 Police used the license plate number to track down the truck, which was still warm when they found it in Poplawski's driveway. Cops were immediately concerned, though, because of what was next to the truck.

"There was a gun, a handgun, that looked like it had fallen out or been dropped outside the driver's side door," said Babka.

When police knocked on the door Poplawski's roommate answered, and police could easily see drugs and paraphernalia inside the home.

Poplawski locked himself in an upstairs section of the house and refused to come outside, so police waited for a warrant and a SWAT team before entering.

After a partial search police found both large quantities of marijuana and at least six guns, which caused them to pull back out and use tear gas to force Poplawski out.

"We've got some pretty good quantities (of drugs)," Babka said. "It appears to be some type of distribution point. Whether they are or not we're not quite sure."

Police are still investigating to determine whether or not the guns were legal.

Poplawski eventually came out of the home after a second round of tear gas around 7:30 a.m. Both he and his roommate Jason Ray are being questioned by police.

Police say they've seen the downfalls of addiction, and this may be one example of it.

"What we deal with in police work is a lot of addiction, a lot of drugs, a lot of unfortunate situations where people are weakened by the addictions and drugs," Babka said.

In 2006, Poplawski lost his right leg competing in the Telemark Extreme Freeskiing Championships. Poplawski was a well-known extreme skier that took part in many competitions until the crash.

In a video, he documents his struggles as an amputee and how he overcame the challenges to continue his passion. According to his website, he tells his story to motivate others.

His website says he's been training to try and make the Paralympics games in 2014. He has also been competing in snowmobile racing in the Winter X Games.

Neighbors knew of Poplawski's reputation as a world-class athlete.

"He was a fantastic skier 'til he lost his leg," said John Wilson.

But that didn't seem to be the life he was living here. Neighbors say they had their suspicions something was going on. Wilson says Poplawski has caused trouble with parties and a lot of traffic coming in and out of his house.

"It's just been a problem ever since he moved in," he said.

Poplawski is being booked into the Salt Lake County Jail on charges of possession with intent to distribute as well as fleeing and evading and possessing drug paraphernalia. Ray is also being booked into jail on drug-related charges.

------

Story compiled with contributions from Randall Jeppesen and Sandra Yi.

×
Photos
Related links
Most recent Utah stories